15 November 2011 // Press centre PJSC "AZOVSTAL IRON & STEEL WORKS"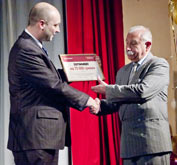 Azovstal Iron & Steel Works of Metinvest Group sent its greetings on the 75th anniversary of specialized school №40 n.a. E. Misko. Azovstal presented a money certificate for 75 thousand UAH as an anniversary gift to this educational establishment. This money is intended for improvement of school facilities.
Specialized school №40 is Azovstal's long-term partner. Since 2006, when implementation of the innovative educational project "School - University- Works" was started, the cooperation between the school and the works has upgraded to a whole new level. The main purpose of the project is training of specialists that are maximally adapted to production environment and formation of the works' future talent pool. Within the framework of the project, pupils and students are trained under the specialized program followed by guaranteed employment at the works. Totally, more than 200 pupils have been covered by such education program over the project duration.
Systemic cooperation between Azovstal and school №40 within the framework of "School - University- Works" project allowed enhancement the teaching effectiveness and substantial improvement of school facilities. Thus, with Azovstal's assistance, new stationary information stands have appeared that are used as teaching aids, and a multifunctional interactive blackboard has been purchased that enables the use of a beamer and a computer. New school furniture and computers for the classrooms have also been purchased. Over 6 years of "School - University- Works" project duration the assistance to educational establishments amounted to more than 2,4 million UAH.
Every year school graduates, participants of "School - University- Works" project enter Priazovsky State Technical University to get free education and after graduation they have a possibility to have their first work place at Azovstal. Over the past three years more than 630 graduates of Mariupol have got their jobs at Azovstal.
"Initiative and talent of the young people at the plants are the key to sustainable development of the entire mining and steel complex and its position on the world market", noted Enver Tskitishvili, General Director of PJSC "AZOVSTAL IRON & STEEL WORKS". "We are interested in recruitment of perspective young personnel to our works and we pay great attention to supporting the young people and building their professional competencies. All this will promote progress in our development and achievement of our strategic goals".