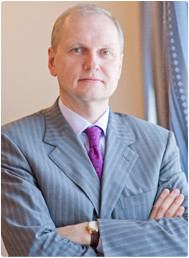 PJSC "Azovstal Iron & Steel Works" is the part of Metallurgical Division of the managing company Metinvest Group.
Operational management of PUBLIC JOINT STOCK COMPANY "AZOVSTAL IRON & STEEL WORKS" is performed by Director General, Enver Tskitishvili.
Enver Tskitishvili obtained a higher education with a specialization in "Metal Working Process"; he has a Candidate of Science degree in "Technical thermophysics and industrial heat engineering", and a rich professional experience in metallurgical industry. Since February 2008 he had been the head of Makiivka Iron and Steel Works, where under his supervision, especially during the crisis period, a number of large-scale transformations in product mix conversion had been performed. Before that, Enver Tskitishvili had been Director General of Alchevsk Iron and Steel Works for 3 years. Since September 2010 Enver Tskitishvili had been performing the responsibilities of Director General of Azovstal Iron & Steel Works.
On April 22, 2011 General Shareholders Meeting of PJSC "Azovstal Iron & Steel Works" made a decision on electing Director General of PJSC "Azovstal Iron & Steel Works".