6 February 2012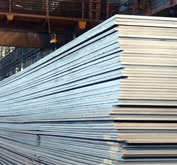 "AZOVSTAL IRON & STEEL WORKS" summarized work in the field of quality and extension of product mix for 2011. Last year specialists of "AZOVSTAL IRON & STEEL WORKS" mastered production of 37 new steel grades and more than 20 types of rolled products.
Currently "AZOVSTAL IRON & STEEL WORKS" is able to accept the orders for more than thousand steel grades. Development of production technology for corrosion-resistant rolled products made of steel grade 09ГСФ for transportation of raw oil with high content of aggressive components is among the major achievements of the last year. In order to determine quality of manufactured products on an operational basis laboratory for hydrogen and hydrogen sulfide corrosion resistance testing was put in operation. In May 2011, concurrently with OHF production shut-down, the enterprise mastered rail steel production using BOF process as evidenced by the State Committee of Ukraine for Certification of Railway Transport (UkrSEPRO system) as also by issuing of production certificates and certificates of conformity for rails, bars, tie plates and joint bars by this state committee.
High products quality is certified almost by all world leading classification societies. For the first time ever in 2011 the enterprise obtained certificates of approval for slab production according to the rules of such classification societies as American Bureau of Shipping (ABS) and Korean Register of Shipping (KR). At present 27 documents (certificates of compliance and approval) covering almost all manufactured products are in force at the enterprise.
Competitive position keeping in steelmaking is a strategic target of Metinvest Group. This task solution along with strengthening of customer orientation will allow the enterprise to uphold the position in strategic steel products markets.