7 February 2012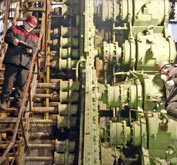 The project "Equipment Maintenance System" oriented to monitoring, analysis and creation of integrated record keeping system for technical condition of production facilities has been realized at "AZOVSTAL IRON & STEEL WORKS" (Metinvest Group) since the beginning of 2012.
Charts of equipment daily maintenance defining the list of activities and measures on elimination of revealed failures have been developed within the framework of project implementation. In addition, equipment maintenance schedules representing frequency, type and scope of performed activities have been developed. Data collected in such a way allow to follow the chronology of failures in the operation of various equipment, to respond promptly and to take corrective and preventive measures. At this stage, the system is transferred to the electronic base SAP R/3 used at the enterprise. This will simplify application of process charts and will record all activities conducted with the equipment.
Important part of the system is a split of functions between technical and maintenance personnel. In particular, for process engineers who operate and maintain the equipment, operations, which were earlier performed by the repair departments, are introduced in the charts of equipment daily maintenance. Such approach allows to ensure personal responsibility of employees for production facilities condition, which design work leads to the adherence of manufacturing technology and, as a consequence, to the reduction of man-induced impact of metallurgical industry on the environment. Moreover, early diagnosis, special attention to all assemblies and units allow to avoid many problems during the entire period of equipment operation. Thanks to these activities costs for unscheduled repairs are reduced and service life of production units prolongs.