13 February 2012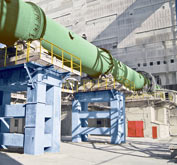 At Lime Shop of PJSC "AZOVSTAL IRON & STEEL WORKS" being the part of Metinvest, the repair of rotary kiln #1 has been finished. Alignment of electrofilter of the kiln has been carried out within the framework of repair.
Relining, check and repair of gas burner units have been carried out, deformations at assembly units appearing due to high temperature have been eliminated during repair of kiln #1. Also cleaning and operating capability recovery of all mechanisms and electrical equipment of kiln electrofilter have been performed. Electrofilter traps out dusty air used for filter combustion at rotary kiln. Upon repair the equipment ensure actual value of dust emission into the atmosphere in accordance with regulations of applicable law of Ukraine for industrial enterprises.
Continuous monitoring and auditing of dust and gas cleaning equipment provide required ecological indexes. Therefore during repairs of any levels performed at the Works, the list of activities includes repair service and units upgrading that contribute air emission abatement of repugnant substance.