29 February 2012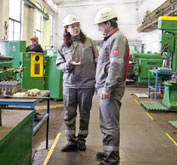 "Lean Production Facility" strategic program continues to be implemented at "AZOVSTAL IRON & STEEL WORKS" (Metinvest Group). Since 2012 nine shops of the enterprise (Rail and Structural Steel Mill, BOF Shop, Coke Shop, Coal Preparation Shop, Plate Mill, Blooming Mill, BF Shop, Rail Fasteners Shop and Sinter Shop) have participated in the program implementation.
Today subdivisions of the enterprise set ambitious goal to organize working area in the efficient way that will allow to improve production efficiency and minimize all possible losses. "Kaizen Blitz" launched this week at the shops, which participate in "Lean Production Facility" project, is aimed at this goal achievement.
"Kaizen Blitz" involves a wide range of activities, in particular, sorting of tools, cleaning of working area and painting of equipment and communications according to the requirements of warning marking applied at the enterprise. These activities are directly coordinated on-site by the responsible people appointed by assistants of shop managers for continuous improvement, who also determine the areas for such activities to be implemented.
Sergei Zaitsev, Head of Continuous Improvement Department (PJSC "AZOVSTAL IRON & STEEL WORKS") emphasized: "Personnel involvement in continuous improvement activities is a foundation stone determining success of "Lean Production Facility" project implementation. All employees working at our enterprise – starting with the shop workers and ending with top managers – are involved into this process. Activities like "Kaizen Blitz" contribute to production optimization and definitely increase production efficiency through reduction of time necessary for fulfillment of production operations".
"Kaizen Blitz" is supposed to last till the end of March at the main subdivisions; thereafter Continuous Improvement Department is to summarize the results of performed work.