12 March 2012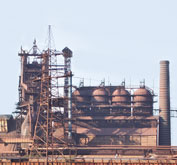 PUBLIC JOINT STOCK COMPANY "AZOVSTAL IRON & STEEL WORKS" of Metinvest Group carried out large scale repairs at blast furnace No.6. Performed repairs focused not only on recovery of units design parameters but also consider the fact of manmade impact on environment.
Main repairs activities at blast furnace No.6. include replacement of charging equipment and furnace aspiration system. These activities focused on support of cleaning system stable operation that leads to reduction of manmade impact on the environment.
It should be noted that the schedules of repair campaigns realization concerning metallurgical equipment are drawn up with consideration of meteorological forecast. Such an approach allows to reduce manmade impact on environment in Mariupol during unfavorable meteorological conditions.