14 March 2012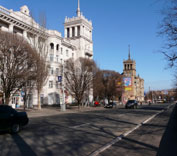 Metinvest, a vertically integrated mining and steel group of companies, is announcing in 2012 the start of a new corporate social program "We Improve the City" in the cities of Donetsk, Dnepropetrovsk and Lugansk regions. In Mariupol the program will be implemented by PJSC "AZOVSTAL IRON & STEEL WORKS" and PJSC "Ilyich Iron & Steel Works". The modern mechanism of social investing will be applied under the program: project contest followed by funding of the most innovative and creative projects prepared by nonprofit organizations, municipal institutions and the people of Mariupol themselves.
The purpose of project contest is involvement of the city's residents in the development and realization of the projects intended for creation of innovative approaches to solving of Maiupol's social issues. To take part in the contest for the best social project, the city's public organizations, municipal institutions and initiative groups will have to independently formulate the issues of concern, to substantiate their relevance for Mariupol and to suggest the solutions.
The projects will be assessed by the Council of Experts by the following criteria: the demand for and the feasibility of the project; clearly formulated issue of concern; compliance with the priorities of the contest; the degree to which the project idea has been developed; project originality; the social value of the issue in the given project etc.
The winners of the contest will be provided with the funds for implementation of their projects based on the concluded contracts in the amount approved by the Council of Experts. The amount of funds per project may be as high as 50 000 UAH.
"Metinvest Group is doing more than providing money for the improvement of Mariupol – it gives the possibility to the people of Mariupol to be directly involved in the native city's life, to determine the priorities of the city's development, to implement the projects which are crucial and important for the city dwellers", says Svetlana Khirim-Girei, Head of Corporate Communications of PJSC "AZOVSTAL IRON & STEEL WORKS".
The applications for participation in the contest will be accepted from 26 March to 11 May. The contest documentation and conditions for participation are available on Metinvest Group's website in section "Responsibility", subsection "Corporate Social Programs".
http://www.metinvestholding.com/en/csr/community/corp_programs