19 March 2012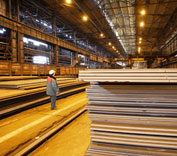 On the night of the 15th of March, two weeks before the target date, the personnel of Metinvest Group owned "Azovstal" Iron and Steel Works mill "3600" produced the 58th million ton of the rolled stock since the start up of the shop.
Team number 4 led by Konstantin Vas'kevich worked during that remarkable shift. The work was done splendidly by mill department foreman Dmitry Shindenkov, chamber thermal furnaces department head of the team Vyacheslav Gerasimenko, sample department head of team Marina Kharzhevska, plate finishing department head of team Nadezhda Voronina, shipment head of team Vasily Styopin.
Next morning all the personnel of team Nr. 4 was congratulated cordially by head of the heavy plate mill Victor Ocheretin.
Let us recall some facts from the history of the works. On June, 16th , 1973, two weeks before the target date, mill "3600" process equipment testing was started, and the first heavy plate at "Azovstal" works was rolled on June, 24th of the same year. It took the heavy plate mill rolling specialists only a year to produce their first million tons of heavy plates.
Nowadays, the heavy plate mill personnel is working persistently at achieving of the set objectives thus contributing to the overall result of producing high quality products conforming to all requirements of a customer.