20 March 2012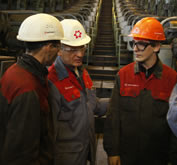 Students of Priazovsky State Technical University (PSTU), participants of education project "School – University – Enterprise", completed production practice at "AZOVSTAL IRON & STEEL WORKS"(Metinvest Group). Thanks to participation each student was able to get the first operational experience in subdivision corresponding to its specialty and future career.
During two months 15 students (five course) of PSTU Azovstal group were passing practice at Plate Mill, Rail and Structural Steel Mill, Mechanical Assembly Shop, Mechanical Equipment Repair Shop-2, Metallurgical Equipment and Constructions Repair Shop, Thermal Power Plant, Turboblower Shop, Technical Administration, Environment Protection Administration, Design Department and HR Motivation Administration.
At the time of practice experienced coach was assigned for each student, who helped trainees to consolidate theoretical knowledge directly at the place of production. Students of Azovstal group directly involved in fulfillment of specific production assignments had the opportunity to realize themselves as professionals, adopt experience of highly qualified professionals working at the enterprise. Chiefs of subdivisions, in which PSTU students passed practice, noted ability to work, initiativity and commitment of future metallurgists.
In summer PSTU students (five course) – participants of project "School – University – Enterprise" have to defend Graduation and Master's Thesis before the State Examination Board traditionally composed of "AZOVSTAL IRON & STEEL WORKS" managers. After graduation project participants will be employed at the enterprise.
Totally 63 PSTU students trained under the project were employed at "AZOVSTAL IRON & STEEL WORKS" since 2006 for the duration of project "School – University – Enterprise". In general, more than 630 recent graduates were employed at the enterprise over the past three years.