29 March 2012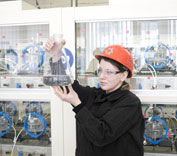 For one year of corrosion testing laboratory (CTL) work, more than 1140 test pieces of pipe plates and large diameter pipes have been tested at "AZOVSTAL IRON & STEEL WORKS" (Metinvest Group). The major tasks of the corrosion testing laboratory include hydrogen-sulfide corrosion and hydrogen induced cracking testing of steel. The CTL was put in operation in 2011 at "AZOVSTAL IRON & STEEL WORKS", the first among all the iron and steel enterprises of Ukraine, and up until now remains the only laboratory of the sort in Ukraine.
Pipe plate steel is tested in terms of corrosion environment resistance in the CTL, which makes it possible to define the quality of steel intended for production of large diameter pipes. The tests carried out make it possible to define to what extent the products being manufactured conform to the customer's requirements. The availability of the laboratory at the enterprise makes it possible to conduct testing within the shortest time, within a month, which also provides an opportunity to increase the amount of orders to be accepted.
The laboratory also conducts testing of finished products by Khartsyzsk Pipe Plant (KPP) of Metinvest Group, which are the pipes for main oil and gas pipelines being operated in climate and natural-and geological extremes. On successfully passing the testing in the CTL, the finished products by KPP can rival in terms of its quality with leading iron and steel enterprises specialized in welding of pipes with similar strength performance.
The CTL's placing into operation became an important step on the way of improving our customs services, meeting their requirements to the fullest as well as reaching the best business practices. Assimilation in manufacture technology of strips and hydrogen-sulfide-corrosion-resistant tubes will make it possible for the company to step into a new market segment and enhance its competitiveness.
The corrosion testing laboratory of "AZOVSTAL IRON & STEEL WORKS" is certified by the Ministry of Industrial Policy of Ukraine.