29 March 2012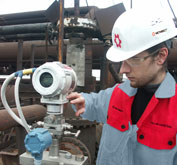 "AZOVSTAL IRON & STEEL WORKS" (Metinvest Group) is the first enterprise in Ukraine, which proceeded to energy management system certification according to the new International Standard ISO 50001:2011.
First and foremost, Metinvest Group considers energy saving and energy efficiency as indispensable condition for solution of strategic tasks directed to improvement of operational efficiency, taking into account significant environmental effect attributable to fuel consumption reduction.
In the foreseeable future, global trend in metallurgical and mining industries oriented to energy consumption reduction will affect competitiveness of the companies. Certificate ISO 50001:2011 will allow improving energy management system of «AZOVSTAL IRON & STEEL WORKS». In view of this, «AZOVSTAL IRON & STEEL WORKS» concluded contract for certification with TÜV SÜD Ukraine, which provides services in the field of technical expertise, tests, certification and training on such strategic business direction as energy efficiency. Cooperation with TÜV SÜD Ukraine assumes diagnostic audit with further elimination of remarks, training of specialists involved in management system of the enterprise fuel and energy resources and conduction of certification audit. Certification under ISO 50001:2011 is rather time-consuming and long-term process. The enterprise expects to obtain certificate at the beginning of 2013.
Currently, diagnostic audit is being conducted at the enterprise, within the framework of which TÜV SÜD Ukraine representatives review energy saving program of the enterprise for 2012 in order to determine its compliance with the requirements stipulated by ISO 50001:2011 as well as examine report documentation on implementation of program activities.
ISO 50001:2011 was approved by International Organization for Standardization in June 2011. The standard suggests creating high-quality energy management system, which ensures optimal consumption of energy resources and system management of this process.
«Work under ISO 50001:2011 opens up new opportunities for the enterprise in the field of energy saving, environmental impact reduction as well as allows to improve social responsibility of the enterprise and company in general» — Enver Tskitishvili, Director General of PJSC «AZOVSTAL IRON & STEEL WORKS», noted. — Certificate is a document proving that we conduct our activities in compliance with internationally recognized standards that allows us to compete on equal footing with the leading steelmakers at the world market».