19 April 2012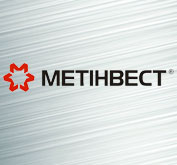 The Mastering the Rail Steel Production Through Oxygen Steelmaking Project by PJSC "AZOVSTAL IRON & STEEL WORKS" of the METINVEST GROUP took the first place in the municipal Mariupol Tower 2011 Awards nominated as Discovery of the Year. The plant was awarded with laureate diploma in the nomination of Socially-Responsible Enterprise of Big and Medium Business.
Taking the open-hearth process out of the operation at PJSC «AZOVSTAL IRON & STEEL WORKS» became an outstanding event of 2011. The implementation of the project made it possible to reduce the technogenic impact and to cut down the amount of emissions by 4 thousand tones as well as to decrease the amount of disposed open-hearth slag and to eliminate the discharge of waste waters through the third water outlet of the plant. Along with taking the open-hearth process out of production within the shortest possible terms, the technology of railroad manufacture from converter steel had been developed and successfully tested at the plant. The transition to an advanced manufacturing technology made it possible for the company to reduce operating and energy costs as well as to increase the work efficiency of the METINVEST in general.
On August, 2011 the plant received the Manufacture Certificate and the Certificate of Conformity for rails produced from converter steel issued by State Committee of Ukraine on Railway Transport Certification (UkrSEPRO System) as well as the Certificates of manufacture and conformity for rolled sections, tie plates, and joint bars.
On April 19th the ceremony was held where the winners and the laureates of Mariupol Tower 2011 Awards were announced. The most valuable decisions, successfully implemented projects and social initiatives were awarded by prizes and diplomas. AZOVSTAL is the traditional participant of Mariupol Tower Awards. For thirteen years of the awards history the plant repeatedly became the winner and the laureate in various nominations.