11 May 2012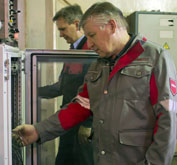 At BOF Shop of "AZOVSTAL IRON & STEEL WORKS" (Metinvest Group) a state-of-the-art gas analyzing unit "Granat" for control of technological parameters and monitoring of industrial emissions has been put into operation. Investments for the project implementation amounted to around 700 thous. USD.
New gas analyzing unit "Granat" holds control over the dynamics and thermal dynamics of the processes, happening in gas exhaust ducts of both converters. Modern mass-spectrometers perform on-line analysis of the content of chemical elements in converter gases. Information arrives to the server where all data are processes and registered. Using the received information, the workers of BOF Shop hold full control over the technological process of converter heat. Information gets to the computer just in 15 seconds upon measurement that makes possible on-line corrections of the converter heat process and achievement of required technological parameters.
The benefits of the new system include saving of power resources, consumed in course of the heat, saving of process oxygen, metal burden, hot metal and time, that can be efficiently spent for subsequent technological operations.
Full control over the heat process allows producing steel of required high quality that gives the company an opportunity to reduce prime cost of manufactured products, to enhance customer centricity and to stabilize the position at the world market.
Automated system for control over operation of Converter Department facilities has been implemented with the help of modern technical means and software, and integrated into informational network of the enterprise. Personnel working with the system for control of technological parameters and monitoring of industrial emissions has been appropriately trained at Physicotechnical Research Center "Analytic", producing industrial equipment for gas analysis.
With regards to the control system it is utterly important to underline, that along with increase of the equipment operational efficiency, the ecological issues of converters operation have also been considered. Owing to strict control over gas exhaust ducts environmental footprint has been reduced.