5 June 2012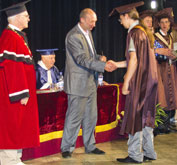 During the period of June-September, "Metinvest Group" "Azovstal Iron and Steel plant" will place in a job about 166 graduates of the year 2012 from Priazovsky State Technical University, Donbass State Technical University, Mariupol mechanical and metallurgical college and Mariupol Professional and Technical Educational Center. Around 800 graduates of Mariupol have been given employment at Azovstal over the last four years.
Educational establishments graduates will replenish staffs of the works main shops: blast furnace shop, BOF shop, heavy plate mill, rail and structural steel mill, sinter plant, coke plant and a number of other subdivisions of the works. At that, while studying in higher educational establishments students had already gained their first operational experience in the subdivisions of the works, in accordance with their specialty and future profession.
«Our company is interested in young and skillful staff of prospect. This year, as well as before, we have reserved work places for educational establishments graduates. Young specialists need only show diligence in their work and seek to develop constantly», — Enver Tskitishvili, general director of PJSC «Azovstal Iron and Steel Works», pointed out.