6 June 2012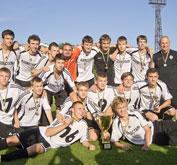 The team of Mariupol branch of children and youth football academy FC "Shakhtar", born in 1995, won the first place in annual Championship of children and youth football league of Ukraine. In scope of realization of METINVEST corporate social program "Development of children and youth football", the young shift of professional football players are trained in Mariupol branch of children and youth football academy FC "Shakhtar". In the first quarter of 2012, METINVEST investments in branch development amounted about 560 thou. UAH
The championship was started in autumn 2011. For the first time, finals took place in Mariupol at the FC «Shakhtar» academy football fields on the 3-d and 4-th of June. In total, 80 children and youth Ukrainian football teams took part in tournament. There was a sport gusto and competitiveness at the football field during the final games. Mariupol academicians got a confident victory in a semifinal on the Kirovogradsky 'Olympic» with the score 3:1. In spectacular final match, Mariupol team won from Cherkassky «Slavutich» with the same score, 3:1. According to the results of the Championship, Mariupol academicians Andrei Kuzmin and Stanislav Merkulov were recognized as the best player and the best forward respectively.
Mariupol children and youth academy FC «Shakhtar» has been working with young players of the city since 2005. During this period, its students have made significant sport achievements due to experienced coaching staff of the academy, complex approach in training process and strong financial support by METINVEST, aimed at developing of children and youth sport and wellness management.
Teams of the branch have been participating in various competitions including international level. Among the achievements in 2011 — silver price in nationwide tournament «Kozhany myatch» (Leather ball) and tournament «Nadezhda\' (Hope), victory in championship between branches FC «Shakhtar», leading positions in the second group of the first round of the Championship of children and youth football league of Ukraine and others. Three young players from Mariupol branch were selected into «Shakhtar» junior team in 2011. Also, one of the student of Mariupol branch of children and youth football academy FC «Shakhtar», player of the team «Azovstal -99» Vladislav Sein was selected as one of the eight flag-bearers at the final match of European Football Championship, which will be held in Ukraine in July.