21 June 2012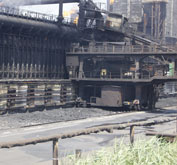 On June 21, 2012 Metinvest, vertically integrated mining and metallurgical group of compa-nies, decommissioned Coke Battery No. 5 at "AZOVSTAL IRON & STEEL WORKS".
The decision was made in compliance with the development strategy for iron and steel enterprises of Metinvest Group in Mariupol in view of environmental impact reduction. Decommissioning of coke battery will allow reducing emissions into environment of Mariupol by 3 tons per year.
Planned shutdown of Coke Battery No. 5 was carried out according to the developed technical measures providing for safe performance of activities on metallurgical facilities shutdown.
Deficient coke production volumes caused by decommissioning of Coke Battery No. 5 will be compensated by the supply of raw materials from other Metinvest Coke Plants.
Coke Battery No. 5 personnel will be reallocated to the existing vacancies within the enterprise.

"At the last debating meeting of Metinvest with the public regarding environmental issues in Mariupol we declared that already this summer one of the oldest coke batteries will be shutdown at "AZOVSTAL IRON & STEEL WORKS". And we fulfilled promise. Two more old coke batteries Nos. 6, 7 at "AZOVSTAL IRON & STEEL WORKS" will be decommissioned in a phased manner over the next three years ", said Enver Tskitishvili, Director General of PJSC "AZOVSTAL IRON & STEEL WORKS".