2 July 2012 // Press center PJSC "Azovstal Iron and Steel Works"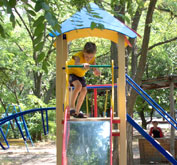 Metinvest Group Azovstal Iron and Steel Works allocated about 200 thousand UAH to the city for children's playgrounds installation in terms of agreement of social and economic collaboration between the works and Mariupol city council. Five new children's playgrounds will be installed in Ordzhonikidze district of Mariupol.
According to the project implementation plan, installation of new children's playgrounds in Ordzhonikidze district will be accomplished during July-August, 2012. All children's playgrounds components to be purchased comply with sanitary requirements and quality standards. Two new children's playgrounds will appear in "Vostochny" residential area, two more - in Komsomolsky boulevard and another one in Pobeda avenue.
Earlier, eight new children's playgrounds were installed in Ordzhonikidze district last year using funds allocated by "Azovstal" works: in Olimpiskaya, Azovstalskaya, Poltavskaya, Korolenko streets, Pobedy and the First of May avenues and in Komsomolsky boulevard.
"It has become traditional for "Azovstal" works and Metinvest Group to take active part in city projects implementation in those cities where there are enterprises belonging to the Group present. The reason is because Metinvest Group enterprises activities are indissolubly tied to and determine the future of the cities where these enterprises serve as city-forming ones. I'm sure that new and modern children's playgrounds will become a wonderful present for children of Mariupol", Enver Tskitishvili, general director of PJSC "Azovstal Iron and Steel Works" pointed out.