9 August 2012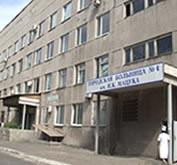 PUBLIC JOINT STOCK COMPANY "AZOVSTAL IRON & STEEL WORKS" (Metinvest Group) allocated nearly 600 thous. UAH to Mariupol municipal hospital No.4 for repairs at traumatology and surgery departments under agreement on social and economic cooperation between the enterprise and Mariupol City Council.
At present the first stage of repairs has been completed at traumatology department. Complete replacement of old window frames with double-glazed windows that not only provide comfortable conditions for patients but also allow hospital to reduce costs significantly during heating season. Metal-plastic windows will be installed at surgery department – necessary work has already been performing and will be completed within August.
It should be pointed out that in 2011 PJSC "AZOVSTAL IRON & STEEL WORKS" provided more than 1.45 mln. UAH for repairs of blocks at municipal hospital No.4. In particular, full reconstruction of clinical laboratory, surgery block, X-ray control department, photofluorographic department and day patient department of the hospital were carried out.
Enver Tskitishvili, Director General of PJSC "AZOVSTAL IRON & STEEL WORKS" noted that Metinvest Group allocates sufficient monetary funds for development of Mariupol infrastructure and solution of the most significant social problems. Paying particular attention to health issues, the enterprise orients not only on simple assistance to the city medical institutions, but on system improvement of social environment.