16 August 2012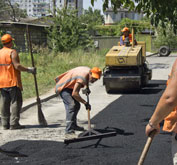 PJSC "AZOVSTAL IRON & STEEL WORKS" of Metinvest Group has financed Mariupol roadways repair. Within the framework of bilateral agreement on social and economic cooperation between the enterprise and Mariupol city council, nearly 800 thous. UAH was allocated for roads repair.
Allocated funds were meant for improvement of the most troublesome motorway areas in Ordzhonikidzevsky District of Mariupol. Currently pavements are being covered with asphalt at Gugel Street. Repairing works are completed at Leporsky Street, and new pavements are mounted along with roadways having been renovated at Lunacharskiy Alley. In addition, 300-meter-long road area is going to be renovated at Pashkovskiy Street near Mariupol municipal narcological dispensary by late August.
"PJSC "AZOVSTAL IRON & STEEL WORKS" permanently promotes implementation of the most important municipal infrastructure projects. In many ways, roads condition predetermines how safe and reliable transportation will be. This is the reason why we will keep providing the town with systematic help in this direction", Enver Tskitishvili, Director General of PJSC "AZOVSTAL IRON & STEEL WORKS" said.