30 August 2012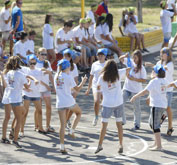 For summer period of 2012 over 2800 employees of PJSC "AZOVSTAL IRON & STEEL WORKS" of Metinvest Group, their family members, and the veterans of the enterprise have had a chance to have a rest and improve their health at social facilities of Metinvest Group within the framework of project "Zdravnitsa plus". The enterprise allocated nearly 8,2 mln. UAH for the purchase of trip tickets, and over 3,4 mln. UAH of this amount was meant for children health-improvement.
Within the framework of project "Zdravnitsa plus", the recreation facilities of Azovstal and other enterprises of Metinvest Metallurgical Division have merged this year to improve efficiency and quality of health-improvement in summer. The families of Azovstal employees, as always, were welcomed at resorts "Volna" (Sedovo) and "Nadezhda" (Sopino), where 1917 people have improved their health for the summer period. 900 children of Azovstal employees have had a rest in health-center "Severnyi", the main child's health-improving center of the enterprise.
A special emphasis should be placed on the fact that these social facilities have been prepared at the expense of Metinvest Group which, in addition to fulfilling current repair and side landscaping, has also financed the works on expanding shore territory and bank consolidation in recreation center "Volna" as well as the repair of water purification system in health-center "Severnyi".
"Participation of our recreation facilities in project "Zdravnitsa plus" has greatly increased the chances for health-improvement by means of increasing the number of recreation institutions where both Azovstal employees and their family members can take a rest. PJSC "AZOVSTAL IRON & STEEL WORKS" has always paid a great deal of attention to health-improvement as taking care of health and wellbeing of our employees is part and parcel of our social politics", – Enver Tskitishvili, Director General of PJSC "AZOVSTAL IRON & STEEL WORKS" said.