15 September 2012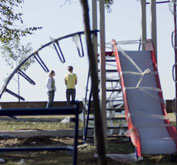 Within the framework of implementation of corporate social contest "City in Our Hands" of Metinvest Group construction of children playground in the park named after Leporsky is be-ing launched. Investments in the project are 250 thous. UAH.
It will be recalled that contest "City in Our Hands" has been conducted by Metinvest in the cities of Donetsk, Dnepropetrovsk and Lugansk region. In Mariupol contest is being realized by PJSC "AZOVSTAL IRON & STEEL WORKS" and PJSC Ilyich Iron and Steel Works of Mariupol. Project "Children Sports Complex in the Park named after Leporsky" was one of the contest winners and incorporated at once five initiatives of Mariupol citizens represented by population self-organization committees "Markokhim", "Azovstalsky", "Tsentralny", "Uspenovka" and public organization "Association of Young Metallurgists".
Currently the first construction stage in the park named after Leporsky has been completed – territory for future playground has been prepared and old reinforced concrete structures have been dismantled. The trees have been preserved and neatly trimmed in course of preparatory work. In the near future constructors will proceed to the next stage – erection of modern, convenient and safe sports complex.
Enver Tskitishvili, Director General of PJSC "AZOVSTAL IRON & STEEL WORKS", noted that corporate program "City in Our Hands" afforded excellent opportunity to the citizens of regions where Metinvest Group enterprises are present not only to offer development and municipal improvement vision for their native cities, but also to implement these ideas in practice. A great number of notable projects submitted to approval by the contest jury since the program start was evidence of genuine desire of Mariupol citizens to make our city better, more comfortable and more beautiful. I believe that children playground in the park named after Leporsky would be a perfect place for sportive and active rest for our small citizens.