25 September 2012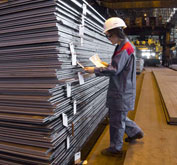 "AZOVSTAL IRON & STEEL WORKS" (Metinvest Group) mastered production of new steel grade 08ГБФ-У in order to implement one of the Group strategic targets focused on competitive growth of the company and increase of its market share.
New steel grade is resistant to hydrogen sulfide corrosion. It has a number of characteristics that allow to use it for manufacturing of large diameter electric-welded pipes for gas transportation. When mastering production technology of steel grade 08ГБФ-У specialists of the enterprise applied unique approach and introduced copper in chemical composition in order to increase corrosion resistance in aggressive hydrogen sulfide environment.
Steel of pipes resistant to hydrogen sulfide corrosion, in addition to the common requirements in terms of mechanical properties, is to comply with a wide range of special requirements. Since July 2012 Corrosion Testing Laboratory of "AZOVSTAL IRON & STEEL WORKS" examined the obtained specimens that proved full compliance of steel grade 08ГБФ-У with the requirements established in normative documentation as to mechanical, technological properties and resistance to sulfide corrosion cracking.
In 2011 "AZOVSTAL IRON & STEEL WORKS" mastered production of more than one hundred new steel grades, of which fifty six grades are referred to plates and forty four – to bars. In 2012 activities on expansion of steel grades, which are produced by the enterprise, are being continued. Thus, in spring Plate Mill of "AZOVSTAL IRON & STEEL WORKS" mastered production of plates (steel grade 25ХГСР) used in machine building industry. Production of pipe plates (strength category X70) for large diameter LSAW pipes is learnt for manufacturing.
Enver Tskitishvili, Director General of "AZOVSTAL IRON & STEEL WORKS", noted that in the current complicated situation in metallurgical industry advantage was gained by that manufacturer that quickly responded to changes in demand at metal market and entered it with the most qualitative and popular products. Therefore, our company was continuing to apply efforts aimed at quality improvement of manufactured product mix. Only production client-oriented approach, high efficiency and labour management of each employee of the enterprise would ensure stable operation of the enterprise during global economic downturn.