8 November 2012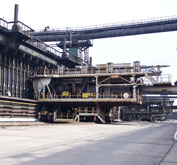 On November 8 "AZOVSTAL IRON & STEEL WORKS" (Metinvest Group) completely decom-missioned the last obsolete Coke Battery No. 6. Earlier, in June and October 2012, two Coke Batteries No. 5 and No. 7 were shutdown. Now it can be seen that the enterprise, prior to the scheduled date, fulfills its obligations on reduction of man-induced impact on the environ-ment within the framework of implementation of program on protection and enhancement of Mariupol environment for 2012-2020.
Shutdown of Coke Batteries No. 5, No. 6 and No. 7 will have a great impact on Mariupol ecology and will allow reducing CO&BP Plant emissions by 50%.
Shutdown of all three coke batteries during 2012 was carried out according to the same operation schedule, which main stages included disconnection and steaming of gas collectors, COG and BF raw gas pipelines as well as installation of shut-off valves at gas pipeline separators. In the nearest time it is planned to proceed with equipment retirement and coke batteries dismantling.
Recall that the key factor, which allowed proceeding with shutdown of coke batteries prior to the scheduled date, was putting into operation of PCI complex and, as a consequence, reduction of coke consumption at Ilyich Iron & Steel Works. PCI introduction opened up the possibility to use additional coke volumes for sintering and ironmaking needs at "AZOVSTAL IRON & STEEL WORKS" owing to optimization of Metinvest Group coke and chemical facilities and arrangement of deliveries from Avdiivka Plant.
Enver Tskitishvili, Director General of PJSC "AZOVSTAL IRON & STEEL WORKS", emphasized: "Social responsibility policy, according to which Metinvest Group enterprises establish their activities and, in particular, "AZOVSTAL IRON & STEEL WORKS", gives special attention to the environmental care. Our enterprise committed itself to reduce emissions of harmful substances manyfold by 2020. Currently activities in this direction have consistent and large-scale character and this is confirmed by early shutdown of coke batteries at our enterprise".