9 November 2012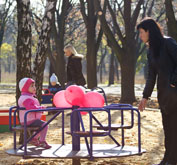 On November 9 children playground was established in the park named after Leporsky in Mariupol within the framework of implementation of corporate social contest "City in Our Hands" of Metinvest Group. Company investments in the project realization were 250 thous. UAH.
The project-winner of the contest "City in Our Hands", initiated by Metinvest in March 2012, incorporated five initiatives, which were presented to the contest judging panel by population self-organization committees: "Markokhim", "Azovstalsky", "Tsentralny", "Uspenovka" and public organization "Association of Young Metallurgists". The contest was conducted by Metinvest in the cities of Donetsk, Dnepropetrovsk and Lugansk region. In Mariupol contest is being realized by PJSC "AZOVSTAL IRON & STEEL WORKS" and PJSC Ilyich Iron and Steel Works of Mariupol.
At the moment erection of all recreational facilities, gymnastic complexes and chinning bars, training equipment, tennis table and other sports equipment was completed in the park named after Leporsky. Acquisition was financed by Metinvest Group. Activities on improvement and illumination of playground premises were carried out by municipal enterprises using the funds of city budget.
Enver Tskitishvili, Director General of PJSC "AZOVSTAL IRON & STEEL WORKS", noted: "Thanks to corporate social project of Metinvest "City in Our Hands" excellent safe place for active leisure and sports activities appeared in Mariupol".