4 December 2012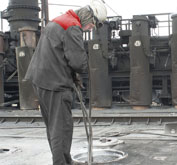 In order to minimize man-caused impact on Mariupol environment, monitoring of gas-purifying equipment performance was carried out within the premises of the enterprise. According to its results a complex program for purifying facilities modernization was both developed and approved. The program includes build-up of large-scale repair campaign aimed at elimination of all possible deviations from the design condition of gas-purifying units operation. Gross investment volume for program provisions implementation will constitute nearly UAH 43,2 billion.
So far the process of reconditioning Azovstal environment protecting equipment to its design operating condition entered its active phase and covers Coke and By-product Process, Sinter Plant, Blast Furnace Shop and Converter Shop.
After Coke-batteries 5, 6, and 7 were gradually drawn out of operation within 2012, the work on providing for environmental safety of industrial facilities of Coke and By-product Process continues at Azovstal. According to the approved program, worn areas of air duct above the Ventilator 2 of dust exhausting plant at coke-sorting machine of Coke-battery 3-4 have been replaced. All air inflows at the dust free coke pushing plant of Coke-battery 1 have been detected and removed as well as all the valves of collecting receiver have been maintained. Worn part of air duct above charging trough for dust exhausting plant of coke sorting at Coke-battery 1 has been replaced. Cyclones and air ducts at dust exhausting plant of transfer unit 1K of coke-sorting at Coke-battery 1 are being repaired. Also, the systematic work is being carried out on Coke-batteries gates repair in order to eliminate fugitive emissions through sealing frame. Final stage includes works on repair of mechanical illuminator No. 3 at Recovery Shop.
In Sinter Shop being shut down since November 10th for detail purification facilities monitoring to be carried out and for detected defects to be removed, works on repair of batteries cyclone gas lines as well as on provision of opening for gas ducts to be installed at battery cyclones of Sintering Machine 1 are being carried out. Works on recovering vacuum tightness of enclosures at gas-purification unit of Sintering machines 1 and 2 and their end part continue.
Program for modernization of gas-purification facilities in Blast Furnace Shop includes 16 measures to be taken. So far project on red fume suppression by nitrogen has been implemented in oscillating troughs and tap hole of Blast Furnace 5. Enclosures of dust exhausting plant at cast yard and skip pit of Blast Furnace 6 have been repaired and electric filter discharge electrodes have been replaced along with gas ducts cleaning.
In the near future, variants on modernization of electric filter for gas purification unit in iron desulfuration section await their development, after which final decision on this project's implementation will be made. Within December, dust exhausting plants for Mixers 1 and 2 as well as slagging machines will be brought to design condition, with electric filters for dust exhausting plants of Ladle-Furnace Unit 1 and 2 being set up.
"Complex approach to solving environmental problems has been chosen at the enterprise as well as large-scale program covering all main shops has been developed in terms of removing all possible deviations from design conditions of environmental protection equipment operation. We have set serious goals in terms of minimizing man-caused impact on environment in Mariupol. Work in this direction will remain our chief priority", - Enver Tskitishvili, Director General of PJSC "AZOVSTAL IRON & STEEL WORKS" said.