4 December 2012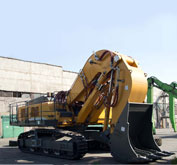 PJSC "AZOVSTAL IRON & STEEL WORKS" (Metinvest Group) purchased modern Excavator R974 Litronic produced by German company "Liebherr" to increase efficiency of loading and processing the BOF slag. Investments amounted nearly € 1 million.
New excavator was manufactured by special order of AZOVSTAL; it has high efficiency, intense wear-resistance, reduced work-cycle time and uprated specification. This, in its turn, leads to efficiency improvement of the operating process by 20 percent minimum. Despite the relatively high cost of the excavator, it will earn its keep very quickly as the commissioning of the new equipment minimize production expenses and make it possible for AZOVSTAL to reduce product costs.
Along with its technical advantages, the equipment can be characterized by comfortable operating conditions. Operator's cabin is well isolated from outdoor environment, equipped with double heat-resisting windows, powerful air conditioning and modern control panel.
"We pay great attention to modernization of the enterprise motor vehicle fleet. The use of modern outsized equipment will enable our enterprise to withdraw from keeping the fleet of low effective, outmoded vehicles, in order to increase production efficiency and competitiveness of our products, that is especially important under conditions of complex situation in metallurgy", – noted Enver Tskitishvili, Director General of PJSC "AZOVSTAL IRON & STEEL WORKS"