22 April 2013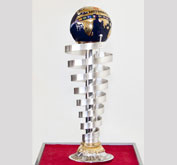 In April, PJSC "AZOVSTAL IRON & STEEL WORKS" (Metinvest Group) was recognized as the most efficient enterprise of Metallurgical Division at year-end 2012. Merits of the enterprise were appreciated by Metinvest management and Winner's Challenge Cup.
All the year Metinvest metallurgists wrestled the title of the most efficient enterprise. "AZOVSTAL IRON & STEEL WORKS" showed the highest overall result among the enterprises of Metallurgical Division (Metinvest). In 2012, team of the enterprise managed to reduce rejects of the products to the basis points. Involvement of each employee in the energy saving program resulted in savings of 7.3 million cubic meters of natural gas and 18.83 million kW/h of electricity.
Enver Tskitishvili, Director General of "AZOVSTAL IRON & STEEL WORKS", emphasized: "I am proud to lead such a committed team. We were working strenuously and achieved significant results together. We became the most efficient and the Company highly appreciates this. Our performance is a stability of the Company, opportunities for development and growth of welfare our people".
For editors:

PJSC "AZOVSTAL IRON & STEEL WORKS" is a modern high-technology enterprise manufacturing wide range of steel products: slabs, bars, shapes, railway rails, rail fasteners, square billets, plates and products of metallurgical slag.

Production capacities of the enterprise allow to produce annually over 5.5 mln. t of iron, over 6.2 mln. t of steel (aim is to achieve 7 mln.t of steel per year) and over 4.4 mln. t of rolled products. Design capacities for rail fasteners production is 285 thous. t per year, grinding balls 170 thous. t per year.

Metinvest is an international vertically integrated mining and metallurgical group of companies that manages assets in each segment of production chain, from extraction of iron ore raw materials and coal as well as coke production up to manufacture of steel semi-finished and finished products, pipes and coils and also manufacture of other high-value-added products. The Group incorporates mining and metallurgical enterprises located in Ukraine, Europe and USA and has sales network covering all global key markets. The shareholders of Metinvest Group are SCM Group (71.25%) and Smart Holding (23.75%) that manage the Company collaboratively.

"METINVEST HOLDING" LLC is the managing company of Metinvest Group.