13 May 2013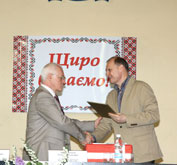 PJSC "AZOVSTAL IRON & STEEL WORKS" of Metinvest Group shall within 2013 provide education institutions of Mariupol with financial aid in the amount of half-a-million UAH. The aid shall be aimed at the improvement of material and technical facilities of those taking part in the Educational Project "School – Higher Institution – Enterprise" the goal of which is to train future metallurgists from the very school days.
This year, as initiated by the Board of Education of Mariupol council, Priazovskiy State Technical University (PGTU), Schools 14 and 40 have been joined by another participant of the project - School 5. Program "School-Higher Institution-Enterprise" has been operated by Azovstal since 2006. For the whole period, over 3, 5 million UAH has been allocated for its financing. The goal of the project is to prepare the highly qualified metallurgists under actual working conditions. For the last five years, nearly 1500 students from PGTU have undertaken the internship at the enterprise.
During his meeting with the students of the higher institution and their teachers, Director General of Azovstal Enver Tskitishvili shared the ideas of employment policy operated by Metinvest, talked about the jobs which nowadays enjoy a great demand in iron-&-steelmaking industry and especially emphasized the fact that iron-&-steelmaking enterprises of the company in the whole country are looking for young and ambitious specialists. Metinvest Group is actively implementing the corporate educational projects aimed at forming the personnel reserve of Mariupol enterprises. This year, due to the programs "Ilyich Perspective" and "School-Higher Institution-Enterprise" at "Ilyich Iron & Steel Works" as well as at PJSC "AZOVSTAL IRON & STEL WORKS", hundreds of young specialists will be employed by the enterprises.
«Nowadays, all those innovations and innovative ideas operated by all the enterprises of Metinvest Group present an example for all the other enterprises acting in this industry. The company makes everything possible to let a person approve himself, to implement his own potential. Young people have excellent perspectives for career development and our specialists are in great demand. For the last two years, only from Azovstal 83 persons took managing offices of the other enterprises of Metinvest Group. Metinvest is developing, we see the perspective and we will strengthen our educational program. Cooperation with Priazovskiy Technical University is of a great strategic importance for us», –mentioned Director General of PJSC "AZOVSTAL IRON & STEEL WORKS" Enver Tskitishvili.
For editors:

Educational project "School-Higher Institution-Enterprise" is aimed at consecutive training of qualified young specialists. The project makes it possible for Mariupol young people to get a good education with maximum emphasis on actual needs of the modern iron-&-steelmaking enterprise. "School-Higher Institution-Enterprise" combines four educational institutions including Priazovskiy State Technical University, Specialized School 40, Lyceum-school 14 and General Education School 5. From the very beginning of the project in 2006, on the schools basis specialized classes with advanced curriculum of the disciplines concerned with ferrous metal industry and the activities of the iron-&-steelmaking enterprise as well as math, computer science, English and Ukrainian languages are being studied. Classroom education is carried out both by school teachers and by university professors as well as employees of Qualification Improvement Center of PJSC "AZOVSTAL IRON & STEEL WORKS". Each year a group of ambitious young specialists is being formed among the third-year students of PGTU within the framework of Project "School-Higher Institution-Enterprise. These people study the perspective and actual disciplines from Azovstal's point of view; they also undertake their internship at the enterprise. The graduates who have undertaken their internship under the program "School-Higher Institution-Enterprise" shall be considered as top-priority candidates for employment to Azovstal.

PJSC "AZOVSTAL IRON & STEEL WORKS" is an up-to-date high-technology enterprise which produces a wide range of steel products such as: slabs, sections and shapes, rails, rail fastenings, square billets, heavy plates, and smelter slag products.

Production capacity of the Enterprise make it possible to manufacture annually over 5,5 million tons of pig iron, over 6,2 million tons of steel (the target is to achieve 7 million tons of steel per year), over 4,4 million tons of rolled products. Design capacity of rail fastenings manufacture is 285 thousand tons per year and of steel milling balls manufacture is 170 thousand tons per year.

Metinvest is a vertically integrated mining group of companies, operating the assets in each sector of the production cycle beginning with iron ore and coal mining and coke production up to the manufacture of steel semi-products and finished products, pipes and coils as well as production of other products with high value added. The Group consists of mining and steel works situated in Ukraine, Europe, and the USA and has a chain of sales covering the key world markets. The chief stockholders of Metinvest are SKM Group (71,25%) and Smart-Holding (23,75%) which jointly run the Company.

METINVEST HOLDING LLC – the holding company of the Metinvest Group