31 May 2013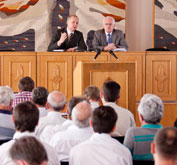 It is the first time in forty years, scientific and technical council was held at "AZOVSTAL IRON & STEEL WORKS" (Metinvest Group) jointly with Priazovsky State Technical University.
University scientists presented twenty-seven scientific papers to the enterprise management and engineers. Of special interest for the enterprise are the projects in environmental field, on reduction of production energy intensity, BF productivity growth owing to introduction of coke burning temperature stabilization system by blast humidity changing, enhancement of power supply system reliability and efficiency, as well as adoption of energy saving modes during controlled rolling of high-quality plates.
In turn, employees of "AZOVSTAL IRON & STEEL WORKS" provided their counter-proposals. The list of key issues for the enterprise was determined, which solution requires involvement of scientific resources of Priazovsky State Technical University. In the course of council holding, working groups were created, in which specialists of "AZOVSTAL IRON & STEEL WORKS" together with colleagues from Priazovsky State Technical University would study the prospects of proposed projects implementation and evaluate the expected economic effect.
"I express appreciation to the management of "AZOVSTAL IRON & STEEL WORKS" for such a meeting that was held. Last time scientists of Priazovsky State Technical University met with colleagues in such a format in the late '70s. Today we are restoring an excellent tradition. We are aware that come to the enterprise where the engineering thoughts are rapidly growing. On a previous visit, I noticed that efficient high-technology solutions are employed here. Therefore, first and utmost, we should meet this high level. For the university it is important to be able to implement its projects. It is the foundation for science growth. And we are glad to have strong support and understanding from Director General of "AZOVSTAL IRON & STEEL WORKS". I mean, if there is no innovation in the production process, not only in the industry but also in other economic sectors, the country will simply go to seed", said Vyacheslav Voloshin, Principal of Priazovsky State Technical University.
"Today, our colleagues presented a lot of new technologies that will help to increase the period for equipment interrepair maintenance, reduce production costs per ton of steel, interchangeable equipment, its maintenance and repairs. This points to the fact that such technical councils have to be held regularly. Special focus will be on environmental proposals. Any environmental issues, which face steelmakers, should be properly solved using scientific ideas. And scientists of Priazovsky State Technical University proposed to our enterprise particular projects that would help to bring in compliance all the emissions in the long term and the most important thing that this process would be controlled", said Enver Tskitishvili, Director General of PJSC "AZOVSTAL IRON & STEEL WORKS".
For editors:

PJSC "AZOVSTAL IRON & STEEL WORKS" is a modern high-technology enterprise manufacturing wide range of steel products: slabs, bars, shapes, railway rails, rail fasteners, square billets, plates and products of metallurgical slag.

Production capacities of the enterprise allow to produce annually over 5.5 mln. t of iron, over 6.2 mln. t of steel (aim is to achieve 7 mln.t of steel per year) and over 4.4 mln. t of rolled products. Design capacities for rail fasteners production is 285 thous. t per year, grinding balls 170 thous. t per year.

Metinvest is an international vertically integrated mining and metallurgical group of companies that manages assets in each segment of production chain, from extraction of iron ore raw materials and coal as well as coke production up to manufacture of steel semi-finished and finished products, pipes and coils and also manufacture of other high-value-added products. The Group incorporates mining and metallurgical enterprises located in Ukraine, Europe and USA and has sales network covering all global key markets. The shareholders of Metinvest Group are SCM Group (71.25%) and Smart Holding (23.75%) that manage the Company collaboratively.

"METINVEST HOLDING" LLC is the managing company of Metinvest Group.