4 July 2013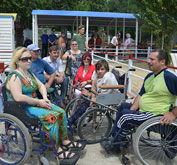 On the 3d of July the first specialized beach for physically challenged people was opened in Mariupol. The works on recreation zone improvement were financed by PJSC "AZOVSTAL IRON & STEEL WORKS" (Metinvest Group) under agreement on social partnership with City Council of Mariupol. Cost of the project is equal to nearly 300 thous. UAH.
Public organizations of Mariupol have repeatedly appealed to City Council with the request to build a beach adapted to the needs of physically challenged people. This year the idea was supported by the Mariupol metallurgists. Project realization is covered by quadripartite agreement on social partnership between Metinvest Group, PJSC "AZOVSTAL IRON & STEEL WORKS", ILLICH IRON & STEEL WORKS and City Council of Mariupol.
Disabled people have chosen the coast area near Primorskiy Avenue – relatively close to the city center with the presence of traffic interchange. A number of other important requests were taking into consideration: ramps with handrails for the descent and shaded shelter were installed; specialized changerooms, shower rooms and water closets were arranged. Everything necessary was provided for comfortable and safe recreation of physically challenged people.
"We could not achieve this without help of the enterprise and "Metinvest". Our object is unique not only for Azov seaboard but for the whole country. Last week before official opening we hosted the participants of All-Ukrainian motor rally organized for physically disabled people. Guests from Yalta and Odessa noted that in their cities only seasonal units are erected which cannot be compared with infrastructure of our Mariupol beach", noted Galina Gureva, acting as Chairman of Association of Community Organizations of disabled people in Mariupol.
"I am very pleased that with opening of this beach hundreds of physically challenged people will have the possibility to have rest as comfortable as physically health people. It is an old dream which we could not realize due to lack of funds. I am truly grateful to Enver Tskitishvili, Director General of PJSC "AZOVSTAL IRON & STEEL WORKS", for the initiative and prompt construction", noted Yuriy Khotlubey, mayor of Mariupol, during official opening.
"Beach for disabled people is the significant project in our social partnership program. Despite difficult times for metallurgists, we continue to provide substantial aid for the city. This year for settlement of the most major problems PJSC "AZOVSTAL IRON & STEEL WORKS" will allocate nearly 10 mln. UAH. We plan to perform capital repair of state hospital No.4 therapeutic building that has only one in Mariupol endocrine department; reconstruction of Leporsky park located in the left part of the city; targeted assistance for schools, support for children's sport", reported Enver Tskitishvili, Director General of PJSC "AZOVSTAL IRON & STEEL WORKS".
For editors:

PJSC "AZOVSTAL IRON & STEEL WORKS" is a modern high-technology enterprise manufacturing wide range of steel products: slabs, bars, shapes, railroad rails, rail fasteners, square billets, plates and products of metallurgical slag.

Production capacities of "AZOVSTAL IRON & STEEL WORKS" allow to produce annually over 5.5 mln. t of iron, over 6.2 mln. t of steel (aim is to achieve 7 mln.t of steel per year) and over 4.4 mln. t of rolled products. Design capacities for rail fasteners production is 285 thou t per year, grinding balls 170 thou t per year.

Metinvest is an international vertically integrated mining and metallurgical group of companies that manages assets in each segment of production chain, from extraction of iron ore raw materials and coal as well as coke production up to manufacture of steel semi-finished and finished products, pipes and coils and also manufacture of other high-value-added products. The Group incorporates mining and metallurgical enterprises located in Ukraine, Europe and USA and has sales network covering all global key markets. The shareholders of Metinvest Group are SCM Group (71.25%) and Smart Holding (23.75%) that manage the Company collaboratively.

"METINVEST HOLDING" LLC is the managing company of Metinvest Group.