7 October 2013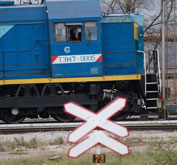 Metinvest Group's Azovstal equipped five of its locomotives with GPS navigation systems. The equipment allows for the real-time tracking of the location and speed of the locomotives, which carry sinter and ore-and-sludge mix to the plant.
Since Azovstal shut down its sinter plant in 2012, it has been receiving raw materials by rail from sister plant Ilyich Iron & Steel Works of Mariupol (both plants are located in Mariupol). The GPS systems will reduce Azovstal's financial losses on logistics by improving the efficiency of its delivery schedule, use of rolling stock, freight travel times, and safety.
"While relocating sinter relocation from Azovstal to Ilyich Steel has decreased the urgency of environmental issues in our city, it has become a challenge for the two enterprises," said Enver Tskitishvili, Azovstal general director. "However, we managed to arrange for synchronous work and continuous raw material supplies. Other remaining issues have been resolved with the help of new technologies. GPS can potentially greatly reduce the logistics costs of the enterprise. Taking into account that our annual losses amount to $59 million due to the mothballing of Azovstal's sinter plant, economization and cost optimization will remain our priority."
For editors:

PJSC "AZOVSTAL IRON & STEEL WORKS" is an up-to-date high-technology enterprise which produces a wide range of steel products such as: slabs, sections and shapes, rails, rail fastenings, square billets, heavy plates, and smelter slag products.

Production capacity of the Enterprise makes it possible to manufacture annually over 5,5 million tons of pig iron, over 6,2 million tons of steel (the target is to achieve 7 million tons of steel per year), over 4,4 million tons of rolled products. Design capacity of rail fastenings manufacture is 285 thousand tons per year and that of steel milling balls manufacture is 170 thousand tons per year.

Metinvest is a vertically integrated mining group of companies, operating the assets in each sector of the production cycle beginning with iron ore and coal mining and coke production up to the manufacture of steel semi-products and finished products, pipes and coils as well as production of other products with high value added. The Group consists of mining and steel works situated in Ukraine, Europe, and the USA and has a chain of sales covering the key world markets. The chief stockholders of Metinvest are SKM Group (71,25%) and Smart-Holding (23,75%) which jointly run the Company.

METINVEST HOLDING LLC – the holding company of the Metinvest Group