9 October 2013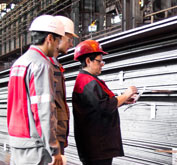 Metinvest Group's Azovstal has passed certification and recertification audits for compliance with international quality standards by nine Ukrainian and international certification bodies since the start of 2013.
"International certificates speak to the quality, professional competence, and confidence of our customers and partners," said Enver Tskitishvili, general director of Azovstal. "With strong competition between steelmakers, our enterprise must meet high customer demands and provide high and consistent quality products."
The American Petroleum Institute (U.S.) confirmed compliance with API Q1, API 2H, and API Spec, opening markets for Azovstal products in the U.S., Canada, and other countries. This gave the plant the right to apply API 2H and API Spec 2Y logos on its rolled plate products.
Tüv Nord Cert (Germany) recertified Azovstal's rolled plates for pressure vessels for compliance with Euronorms and its quality management system with ISO 9001-2008.
A number of audits were carried out on rolled plates for shipbuilding for compliance with the requirements of the Indian Register of Shipping (India), Nippon Kaiji Kyokai (Japan), Germanischer Lloyd (Germany), Italian Maritime Register (Italy), and Ukrainian Register of Shipping.
Products manufactured by Azovstal are sold in 48 countries; the plant holds 30 compliance and production certificates from leading Ukrainian and international certification bodies.
For editors:

PJSC "AZOVSTAL IRON & STEEL WORKS" is an up-to-date high-technology enterprise which produces a wide range of steel products such as: slabs, sections and shapes, rails, rail fastenings, square billets, heavy plates, and smelter slag products.

Production capacity of the Enterprise makes it possible to manufacture annually over 5,5 million tons of pig iron, over 6,2 million tons of steel (the target is to achieve 7 million tons of steel per year), over 4,4 million tons of rolled products. Design capacity of rail fastenings manufacture is 285 thousand tons per year and that of steel milling balls manufacture is 170 thousand tons per year.

Metinvest is a vertically integrated mining group of companies, operating the assets in each sector of the production cycle beginning with iron ore and coal mining and coke production up to the manufacture of steel semi-products and finished products, pipes and coils as well as production of other products with high value added. The Group consists of mining and steel works situated in Ukraine, Europe, and the USA and has a chain of sales covering the key world markets. The chief stockholders of Metinvest are SKM Group (71,25%) and Smart-Holding (23,75%) which jointly run the Company.

METINVEST HOLDING LLC – the holding company of the Metinvest Group