17 October 2013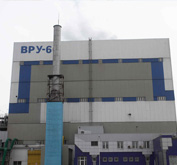 At "AZOVSTAL IRON & STEEL WORKS" (Metinvest Group) air separation unit ASU-60 was rebuilt, which performance specifications were regained up to the design values. Repair costs of the enterprise made up ca. 3 mln. UAH.
Within a month, air-to-water heat exchangers, seawater heat exchangers, mechanical and electrical equipment, valves, basic automation and instrumentation were repaired, as well as cabling and wiring products were replaced.
Restoration of ASU-60 design capacity will allow the enterprise to refuse from operation of obsolete and inefficient soviet oxygen block KAR-30. In contrast to the new unit, KAR-30 block uses power resources inefficiently. Due to the lack of technical capabilities to control the production excess oxygen re-discharged into the atmosphere. However, ASU-60 does not have such disadvantage and provides gases for steelmaking and ironmaking after capital repairs.

Enver Tskitishvili, Director General of PJSC "AZOVSTAL IRON & STEEL WORKS" emphasized: "Metinvest investment program explicated at both Mariupol enterprises is a stark example of European business dealing practice. Now, we have to be reckoned with volatile situation in the industry sector, but modernization has been already launched and will be followed to its logical end. Updating production capacities we build the future, and not only for the enterprises or company. Successful work of metallurgists is a prosperity foundation for our city and Mariupol citizens".
For editors:

PJSC "AZOVSTAL IRON & STEEL WORKS" is a modern high-technology enterprise manufacturing wide range of steel products: slabs, bars, shapes, railway rails, rail fasteners, square billets, plates and products of metallurgical slag.

Production capacities of the enterprise allow to produce annually over 5.5 mln. t of iron, over 6.2 mln. t of steel (aim is to achieve 7 mln.t of steel per year) and over 4.4 mln. t of rolled products. Design capacities for rail fasteners production is 285 thous. t per year, grinding balls 170 thous. t per year.

Metinvest is a vertically integrated mining and metallurgical group of companies that manages assets in each segment of production chain, from extraction of iron ore raw materials and coal, as well as coke production up to manufacture of steel semi-finished and finished products, pipes and coils and also manufacture of other high-value-added products. The Group incorporates mining and metallurgical enterprises located in Ukraine, Europe and USA and has sales network covering all global key markets. The key shareholders of Metinvest are SCM Group (71.25%) and Smart Holding (23.75%) that manage the Company collaboratively.

"METINVEST HOLDING" LLC is the managing company of Metinvest Group.