8 November 2013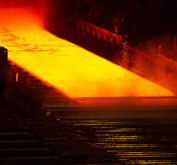 AZOVSTAL IRON & STEEL WORKS of Metinvest Group has completed a challenging order for manufacture of rolled plates for gas pipelines in Saudi Arabia.
For this purpose the enterprise has developed and mastered technology for manufacture of slabs and rolled products made of BM PSL2 steel grade under API 5L standard with restricted requirements to mechanical properties.
Professional staff of the enterprise has determined appropriate chemical composition of steel using accelerated cooling unit in the process of rolling 17.48 mm plates. The testing results have confirmed that the new products fully comply with the customer's technical specifications.
AZOVSTAL IRON & STEEL WORKS is going to produce an additional lot of the new high-strength rolled products for oil and gas industry of Saudi Arabia in November – December 2013.
"Today we need to work hard for each order. Quality, price and uniqueness are the three pillars on which our competitiveness leans. So AZOVSTAL goes with the times, mastering new technologies and expanding its product range. This is the only way for us to hold our market position in steel industry", – said Enver Tskitishvili, Director General of PJSC "AZOVSTAL IRON & STEEL WORKS".
For editors:

PJSC "AZOVSTAL IRON & STEEL WORKS" is an up-to-date high-technology enterprise which produces a wide range of steel products such as: slabs, sections and shapes, rails, rail fastenings, square billets, heavy plates, and smelter slag products.

Production facilities of the Enterprise make it possible to manufacture annually over 5,5 million tons of pig iron, over 6,2 million tons of steel (the target is to achieve 7 million tons of steel per year), over 4,4 million tons of rolled products. Design production facilities for manufacture of rail fastenings are 285 thousand tons per year, and those of steel milling balls are 170 thousand tons per year.

Metinvest is a vertically integrated mining group of companies, operating the assets in each sector of the production cycle beginning with iron ore and coal mining and coke production up to the manufacture of steel semi-products and finished products, pipes and coils as well as production of other high value added products. The Group consists of mining and steel works situated in Ukraine, Europe and USA, and has a chain of sales covering the key world markets. The chief stockholders of Metinvest are SKM Group (71,25%) and Smart-Holding (23,75%) which jointly run the Company.

METINVEST HOLDING LLC – the holding company of Metinvest Group