2 December 2013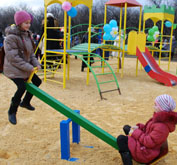 Metinvest Group provided support for realization of another initiative of Mariupol community – a new up-to-date sports ground for children was opened in Prymorsky Park.
Proposed by "Kryshtalevy" Public Self-Organization Committee, the project for creation of the sports ground became one of the winners of the competition "We Improve the City" and received a grant of 50 thousand UAH from the Company. With its numerous fitness machines and training facilities, the new complex opens up the opportunity for the children living in Prymorsky district as well as in other districts of the city to keep a healthy lifestyle by taking regular exercises.
"It is the second sports ground we are opening in Prymorsky district these month. Metinvest and the enterprises of the city keep supporting the ideas proposed by citizens of Mariupol to improve their native city. The place is pleasant here. How wonderful it would be if as many children as possible take sports here and we see their happy smiles", – said Konstantin Voitsekhovky, Director for Human Resources and Administration, PJSC "AZOVSTAL IRON & STEEL WORKS".
For two years already, the competition "We Improve the City" makes it possible to introduce positive changes in the appearance of Mariupol on grants provided by Metinvest Company: dozens of improvement and development projects proposed by public activists of Mariupol have been brought to life.
"I have but good words to say. The park is very beautiful. It's fun for children, it's useful for elderly people, and it's a good opportunity for sportsmen to keep fit. We are grateful to Metinvest Company. We are so glad to have the place where the children will be able to take regular exercises and improve themselves. One thing I have to ask from our people – please, let's keep what Metinvest and the city do for us", – calls Natalia Shevchenko, the Head of "Kryshtalevy" Public Self-Organization Committee.
For editors:

PJSC "AZOVSTAL IRON & STEEL WORKS" is an up-to-date high-technology enterprise which produces a wide range of steel products such as: slabs, sections and shapes, rails, rail fastenings, square billets, heavy plates, and smelter slag products.

Production facilities of the Enterprise make it possible to manufacture annually over 5,5 million tons of pig iron, over 6,2 million tons of steel (the target is to achieve 7 million tons of steel per year), over 4,4 million tons of rolled products. Design production facilities for manufacture of rail fastenings are 285 thousand tons per year, and those of steel milling balls are 170 thousand tons per year.

Metinvest is a vertically integrated mining group of companies, operating the assets in each sector of the production cycle beginning with iron ore and coal mining and coke production up to the manufacture of steel semi-products and finished products, pipes and coils as well as production of other high value added products. The Group consists of mining and steel works situated in Ukraine, Europe and USA, and has a chain of sales covering the key world markets. The chief stockholders of Metinvest are SKM Group (71,25%) and Smart-Holding (23,75%) which jointly run the Company.

METINVEST HOLDING LLC – the holding company of Metinvest Group.