10 December 2013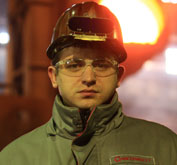 Engineer of BOF Shop ("AZOVSTAL IRON & STEEL WORKS", Metinvest Group) has been recognized as one of the winners of the International Competition for the prize of the World Steel Association
The contest has been already held the eighth time. It is aimed to promote training and career development of young professionals in the steel industry, to enhance their motivation for professional perfectibility. The contest geography covers all regions of the world: North and Latin America, Europe (CIS), Middle East, India, Africa and Southeast Asia - Oceania.
The Ukrainian Federation of Metallurgists acted as the contest organizer in Ukraine. The national stage was attended by 22 specialists who presented the team of Metinvest Group – Ilyich Iron & Steel Works of Mariupol, "AZOVSTAL IRON & STEEL WORKS", Zaporizhstal, Interpipe Steel, Mittal Steel Kryvyi Rih and the National Metallurgical Academy of Ukraine.
Young professionals and students were proposed to cast the specified steel grade on the virtual CCM model at the lowest cost per ton of finished product. Alexander Gavrilin, engineer of BOF Shop ("AZOVSTAL IRON & STEEL WORKS"), was able to achieve the result of 125.68 USD – it was the absolute prime cost per ton of output. Thus, he took the second place of the All-Ukrainian rating.
Alexander Gavrilin has been working for "AZOVSTAL IRON & STEEL WORKS" about five years. He is a volunteer of the Young Professionals Council. Alexander graduated from the Priazovsky State Technical University, where he got a profession of metallurgist. He is a graduate of the first group of Metinvest innovative educational project "School –University – Enterprise".
Enver Tskitishvili, Director General of PJSC "AZOVSTAL IRON & STEEL WORKS" emphasized: "Metinvest is a young, modern and ambitious company. Therefore, professional highly educated young people with innovative thinking fit harmoniously our team. Today, the average age of Azovstal employees is 36 years. Young professionals bring fresh ideas in the production, as well as new perspective for many issues. This helps us to develop and forge ahead".
For editors:

PJSC "AZOVSTAL IRON & STEEL WORKS" is an up-to-date high-technology enterprise which produces a wide range of steel products such as: slabs, sections and shapes, rails, rail fastenings, square billets, heavy plates, and smelter slag products.

Production capacity of the Enterprise makes it possible to manufacture annually over 5,5 million tons of pig iron, over 6,2 million tons of steel (the target is to achieve 7 million tons of steel per year), over 4,4 million tons of rolled products. Design capacity of rail fastenings manufacture is 285 thousand tons per year and that of steel milling balls manufacture is 170 thousand tons per year.

Metinvest is a vertically integrated mining group of companies, operating the assets in each sector of the production cycle beginning with iron ore and coal mining and coke production up to the manufacture of steel semi-products and finished products, pipes and coils as well as production of other products with high value added. The Group consists of mining and steel works situated in Ukraine, Europe, and the USA and has a chain of sales covering the key world markets. The chief stockholders of Metinvest are SKM Group (71,25%) and Smart-Holding (23,75%) which jointly run the Company.

METINVEST HOLDING LLC – the holding company of the Metinvest Group