16 December 2013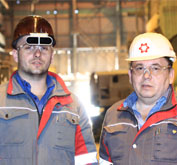 The professors from Priazovskiy State Technical University (PSTU) completed their traineeship at PJSC "AZOVSTAL IRON & STEEL WORKS" of Metinvest Group. For a month, the representatives of partner-university have been improving their skills in the normal operating conditions while supervised by the experienced steelworkers.
Personal training programs have been developed for the trainees. The representatives of departments of metallurgy, pressing-and-forging, thermo-physics and thermo-energy of steelmaking process, theoretic and applied mechanics, and accounting & audit participated in the pilot project.
The traineeship covered nine subdivisions of the enterprise. The professors of the leading technical university have learnt the detailed specifics of works carried out by Rail Fasteners Shop, BF Shop, BOF Shop, Rail & Structural Mill, Plate Mill as well as by financial departments.
In June, Azovstal welcomed the delegates from PSTU within the framework of innovative project "Profession Passport" initiated by SKM. This experience happened to be successful and such traineeships become regular already within educational project "School-University-Enterprise".
"I am glad that I have gained such a great opportunity to undertake a traineeship at PJSC "AZOVSTAL IRON & STEEL WORKS" – one of the biggest enterprises of Metinvest, where innovative technologies are widely used, including energy saving – in the field that lies within the scope of my academic interests. Therefore, I think that it is a big success to undertake training from experienced professionals, initiators of successful energy saving projects at the Plate Mill", – said Senior Professor of PSTU Dmitry Ilyuschenko.
In 2013, cooperation between PJSC "AZOVSTAL IRON & STEEL WORKS" and PSTU moved to a new level. For the first time for 40 years, the Research and Development Board was held by the partners, where 27 innovative solutions in the field of ecological safety and energy saving were represented.
Since the start of the program «School – University – Enterprise», which trains highly-skilled professionals on request of the enterprise, the integration with university has increased. For the last five years, over 1,5 thous. students of PSTU undertook production training at Azovstal, hundreds of them were employed at the enterprise that became native to them.
"We systematically eliminate barriers between university and labor market. PJSC "AZOVSTAL IRON & STEEL WORKS" take an active part in adaptation of the future steelworkers for production realities. Knowing the enterprise from the inside, professors can provide their students with complex understanding of the technological processes. Sharing theoretical knowledge and practical experience among scientists and our employees is an example of mutually beneficial cooperation between the enterprise and university which we are going to develop", – said Director General of PJSC "AZOVSTAL IRON & STEEL WORKS" Enver Tskitishvili
For editors:

PJSC "AZOVSTAL IRON & STEEL WORKS" is a modern high-technology enterprise manufacturing wide range of steel products: slabs, bars, shapes, railway rails, rail fasteners, square billets, plates and products of metallurgical slag.

Production capacities of the enterprise allow to produce annually over 5.5 mln. t of iron, over 6.2 mln. t of steel (aim is to achieve 7 mln.t of steel per year) and over 4.4 mln. t of rolled products. Design capacities for rail fasteners production is 285 thous. t per year, grinding balls 170 thous. t per year.

Metinvest is a vertically integrated mining and metallurgical group of companies that manages assets in each segment of production chain, from extraction of iron ore raw materials and coal, as well as coke production up to manufacture of steel semi-finished and finished products, pipes and coils and also manufacture of other high-value-added products. The Group incorporates mining and metallurgical enterprises located in Ukraine, Europe and USA and has sales network covering all global key markets. The key shareholders of Metinvest are SCM Group (71.25%) and Smart Holding (23.75%) that manage the Company collaboratively.

"METINVEST HOLDING" LLC is the managing company of Metinvest Group.