16 December 2013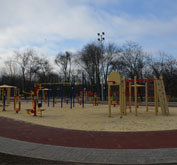 A new stage of reconstruction of Leporsky Park has been completed in Mariupol with support of Metinvest Group. It is PJSC "AZOVSTAL IRON & STEEL WORKS" that has been helping the city in the implementation of the social project in the value of 10 million UAH since 2012.
For the last two decades the park was no longer a popular place for family leisure. The pavements were destroyed, there was no illumination, and there were many old semi-ruined buildings on its territory. Citizens suggested bringing the neglected park back to life.
Azovstal took over the main scope of reconstruction works. One year before, a new playground was opened with amusement arcades, gymnastic sets and pull-up bars, training devices and tennis table. Territory planning, pavements repair, illumination and planting of trees in the park were fulfilled using budget funds.
Juriy Hotlubey, mayor of Mariupol:
– We together with PJSC "AZOVSTAL IRON & STEEL WORKS" have brought Leporsky Park to a brand new European level of leisure opportunities. These sport and playgrounds for Mariupol children conform to the highest level. Upon completion of all the scheduled reconstruction works, Leporsky Park will become one of the best ones in our city.
In 2013 repair of pavements was continued, guest parking lot was constructed, rubber coating is placed around the training devices as well as new track and gymnastics grounds were equipped. Wishes of today's young people were taken into account – skate-park was established for the fans of dynamic leisure. This year, Azovstal allocated 2,8 million UAH as a total for redevelopment of Leporsky Park.
Tatyana Yemelina, Head of Leporsky Park:
– We view the happening changes with a great pleasure. Many thanks to Metinvest and the city. For many years park was empty, and today it has received a new look. I truly hope that kids will have a good joyful time there.
To make sure that park is visited in winter, Juriy Hotlubey suggested organizing an ice rink in the center of the park. Enver Tskitishvili – Director General of "Azovstal Iron & Steel Works" has supported this initiative.
Enver Tskitishvili, Director General of PJSC "AZOVSTAL IRON & STEEL WORKS":
– We- jointly with city authorities- have managed to give a new life to Leporsky Park. Today we see beautiful sport and playgrounds. This place becomes again a favorite place for the employees of Azovstal and for local young people. Children like running around and staying active. Now they have a great opportunity to play and go in for sport in the renovated park.
For editors:

PJSC "AZOVSTAL IRON & STEEL WORKS" is a modern high-technology enterprise manufacturing wide range of steel products: slabs, bars, shapes, railway rails, rail fasteners, square billets, plates and products of metallurgical slag.

Production capacities of the enterprise allow to produce annually over 5.5 mln. t of iron, over 6.2 mln. t of steel (aim is to achieve 7 mln.t of steel per year) and over 4.4 mln. t of rolled products. Design capacities for rail fasteners production is 285 thous. t per year, grinding balls 170 thous. t per year.

Metinvest is a vertically integrated mining and metallurgical group of companies that manages assets in each segment of production chain, from extraction of iron ore raw materials and coal, as well as coke production up to manufacture of steel semi-finished and finished products, pipes and coils and also manufacture of other high-value-added products. The Group incorporates mining and metallurgical enterprises located in Ukraine, Europe and USA and has sales network covering all global key markets. The key shareholders of Metinvest are SCM Group (71.25%) and Smart Holding (23.75%) that jointly manage the Company.

"METINVEST HOLDING" LLC is the managing company of Metinvest Group.