24 December 2013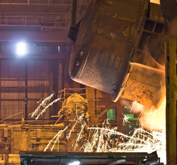 "AZOVSTAL IRON & STEEL WORKS" (Metinvest Group) commissioned an up-to-date slag cut-off system manufactured by «SIEMENS VAI» at the second BOF vessel. The company investments in the project including erection of the same system at the first BOF vessel were 4 mln. 352 thous. USD.
The Austrian technologies ensure efficient slag separation from steel during tapping. The equipment operates automatically using IR system for slag detection.
Using VAI-CON Stopper equipment the enterprise will be able to enhance efficiency of BOF steelmaking thanks to increase of ladle lining campaign, as well as improve quality of produced steel, decrease raw materials consumption and period for steel treatment at the ladle furnaces.
Enver Tskitishvili, Director General of PJSC "AZOVSTAL IRON & STEEL WORKS" emphasized: "The competitiveness among the steelmakers is as strong as ever. In view of this, "AZOVSTAL IRON & STEEL WORKS" introduces modern technical solutions. Commissioning of new efficient system of BOF slag cut-off is a reasonable step in the efforts to occupy positions at the sales markets".
For editors:

PJSC "AZOVSTAL IRON & STEEL WORKS" is a modern high-technology enterprise manufacturing wide range of steel products: slabs, bars, shapes, railway rails, rail fasteners, square billets, plates and products of metallurgical slag.

Production capacities of the enterprise allow to produce annually over 5.5 mln. t of iron, over 6.2 mln. t of steel (aim is to achieve 7 mln.t of steel per year) and over 4.4 mln. t of rolled products. Design capacities for rail fasteners production is 285 thous. t per year, grinding balls 170 thous. t per year.

Metinvest is a vertically integrated mining and metallurgical group of companies that manages assets in each segment of production chain, from extraction of iron ore raw materials and coal, as well as coke production up to manufacture of steel semi-finished and finished products, pipes and coils and also manufacture of other high-value-added products. The Group incorporates mining and metallurgical enterprises located in Ukraine, Europe and USA and has sales network covering all global key markets. The key shareholders of Metinvest are SCM Group (71.25%) and Smart Holding (23.75%) that manage the Company collaboratively.

"METINVEST HOLDING" LLC is the managing company of Metinvest Group.