25 December 2013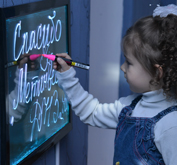 The personnel of the Mariupol preschool institution №20 has become one of the winners of a Metinvest Group's corporate social program "City – by our hands".
Due to the received grant (50 thousand grivnas) the leaders of the preschool institution managed to bring to life a long-standing dream – equip a child day care center with the first in Mariupol multi sensory center. It consists of a sensor room, gym hall and phytoroom. The unicity of this project lies in the fact that it allows children to relax and creates necessary conditions for the development of children with mental retardation. At present two groups of children with special requirements goes into the preschool institution №20.
During 10-15 minutes of lessons to the singing of birds or classical music a child relaxes secluding in a dry shower behind the LED curtain, or a child can have a massage procedure with numerous colored little balls in a dry swimming pool. For particularly inquisitives there is a tunnel in the infinity, own starry heavens and interactive board for painting. There is a salt mine, ionizator and air saturator in the phytoroom. In the improvised café due to medical disposal children will take phytotea and oxygen cocktails. In a word within the framework of this project the adults tried to do possible for improving physical and psychological health of the children who go into the preschool institution №20.
"This multi sensory centre is the first one in our city and an example for all preschool institutions in our city. This real place of well-being was created due to joint efforts of the city and the Metinvest Group. I want to thank Yuriy Zinchenko and all his labor staff for active participation in the life of preschool institutions and secondary schools of our city," – noted Zinovija Dmitrieva, Head of Education Department of Mariupol city council.
"Competition "City - by our hands" is held in order to bring to light active citizens of the city and help them in realization of socially useful projects. And enterprises within the Metinvest Group give the winners necessary cash assets. I think that a multi sensory center in this preschool institution is one of the most wonderful projects in 2013. Such competition is held every year and we hope that your team will propose an interesting idea next year too, and we in turn will surely support it," – underlined Aleksander Goltvenko, Head of Social Administration of PJSC "Ilyich Iron and Steel Works of Mariupol".
For editors:

PJSC "ILYICH IRON AND STEEL WORKS OF MARIUPOL" is one of the largest integrated enterprises in Ukraine. The enterprise produces pipes and flat rolled products of carbon, low-alloy and alloy steels for different applications: hot-rolled plates and sheets intended for manufacturing of pipes for main pipelines, ships, pressure vessels, bridge structures, other steel structures for critical application; hot-rolled plates, sheets and strips including pickled; cold-rolled, including galvanized bands, sheets and strips, including for cold stamping, flooring and others; thick-walled pipes including for oil pipe lines; water- and gas-supply welded thin-walled pipes of circular section and structural pipes of rectangular section; flasks for different compressed gases, including automobile and others.

50 certificates issued by seven International Certification Bodies and Ukraine Certification Centers confirm high quality of steel products of 200 steel grades produced at the enterprise. Quality Management System is functioning at PJSC "Ilyich Iron and Steel Works of Mariupol" developed and certified according to the requirements established in ISO 9001.

Production facilities of the enterprise allow to produce about 6.1 million tons of steel per year, 12 million tons of sinter, more than 5.5 million tons of iron, more than 6.1 million tons of steel including BOF steel – 3.6 million tons, more than 5 million tons of finished rolled products.

METINVEST GROUP is a vertically integrated steel and mining group of companies that manages every link of the value chain, from mining and processing iron ore and coal to making and selling semi-finished and finished steel products. It comprises steel and mining production facilities located in Ukraine, Europe and the US, as well as a sales network covering all key global markets. The Group is structured into two operating divisions, Metallurgical and Mining, and its strategic vision is to become the leading vertically integrated steel producer in Europe, delivering sustainable growth and profitability resilient to business cycles and providing investors with returns above the industry benchmarks. For 9 months ended 30 September 2013, the Group reported revenues of US$9.8 billion and an EBITDA margin of 18%.

The major shareholders of METINVEST B.V. (the holding company of Metinvest Group) are SCM Group (71.25%) and SMART Group (23.75%), which partner in the Company's management.

METINVEST HOLDING LLC is the management company of Metinvest Group.