27 December 2013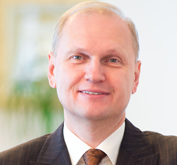 The costs of Metinvest Group aimed at major and minor repairs, modernization and development of PJSC "AZOVSTAL IRON & STEEL WORKS" amounted to one billion UAH as of 2013.
Director General of PJSC "AZOVSTAL IRON & STEEL WORKS" Enver Tskitishvili emphasized when performing live on Sigma Channel that the works on Mariupol environment improvement carry on along with production modernization.
"Even at this challenging time when the sales decreased by 60%, we invest in repairs, in the development of the enterprise. It is only for environmental projects that we have allocated 168 million UAH", – said Enver Tskitishvili.
Director of Azovstal set up the prospective for the enterprise development in 2014. Reconstruction of Blast Furnace 4 will be the outstanding project. The tender for square billet caster meant to replace the existing slab caster is about to reach its completion. It is also planned to determine the equipment manufacturer for the new Rail & Structural Mill.
"This will be a brand new shop with a new technology for rails hardening. It will be as great as a space craft not like an ordinary mill. Besides, it gives very well prospective for the personnel", – deems Director General of the enterprise.
Within 2013, Azovstal mastered nearly one hundred of new types of products and vastly improved quality indicators.
«Having in mind the fact that steelmakers are bound to face challenges and the global market is not prepared to accept that much of steel, we have stepped onto a specialized grade market and worked over products' quality and range. Thus, we made it possible to hold down a market of a specific plates with enhanced mechanical properties for oil & gas high pressure pipelines", – emphasized Enver Tskitishvili.
Director General also commented on the issue of salary accounting for Azovstal employee within the period of March, 2003 until September, 2005.
"I'd like to ask you straight away to address directly the enterprise in cases of any questions related to salary accounting. Nowadays, there are many shady companies pursuing their own interests in attempt to deceive people. We possess the most precise information. We will arrange personnel to receive you and to answer all your questions by raising the archives. You can contact Labour Organization & Remuneration Department of Administration & HR Directorate personally or by phone (0629) 46-72-68", – informed Director General of the enterprise.
According to Enver Tskitishvili, the enterprise keeps working in an open way:
"Open door policy will be fundamental for our activities. We have received 10 delegations only for the last year. Nowadays, due to this good tradition the trust level has risen. We have improved our relationships with public community in general. We clearly see that the citizens' wellbeing will make our work more pleasant".
For editors:

PJSC "ILYICH IRON AND STEEL WORKS OF MARIUPOL" is one of the largest integrated enterprises in Ukraine. The enterprise produces pipes and flat rolled products of carbon, low-alloy and alloy steels for different applications: hot-rolled plates and sheets intended for manufacturing of pipes for main pipelines, ships, pressure vessels, bridge structures, other steel structures for critical application; hot-rolled plates, sheets and strips including pickled; cold-rolled, including galvanized bands, sheets and strips, including for cold stamping, flooring and others; thick-walled pipes including for oil pipe lines; water- and gas-supply welded thin-walled pipes of circular section and structural pipes of rectangular section; flasks for different compressed gases, including automobile and others.

50 certificates issued by seven International Certification Bodies and Ukraine Certification Centers confirm high quality of steel products of 200 steel grades produced at the enterprise. Quality Management System is functioning at PJSC "Ilyich Iron and Steel Works of Mariupol" developed and certified according to the requirements established in ISO 9001.

Production facilities of the enterprise allow to produce about 6.1 million tons of steel per year, 12 million tons of sinter, more than 5.5 million tons of iron, more than 6.1 million tons of steel including BOF steel – 3.6 million tons, more than 5 million tons of finished rolled products.

METINVEST GROUP is a vertically integrated steel and mining group of companies that manages every link of the value chain, from mining and processing iron ore and coal to making and selling semi-finished and finished steel products. It comprises steel and mining production facilities located in Ukraine, Europe and the US, as well as a sales network covering all key global markets. The Group is structured into two operating divisions, Metallurgical and Mining, and its strategic vision is to become the leading vertically integrated steel producer in Europe, delivering sustainable growth and profitability resilient to business cycles and providing investors with returns above the industry benchmarks. For 9 months ended 30 September 2013, the Group reported revenues of US$9.8 billion and an EBITDA margin of 18%.

The major shareholders of METINVEST B.V. (the holding company of Metinvest Group) are SCM Group (71.25%) and SMART Group (23.75%), which partner in the Company's management.

METINVEST HOLDING LLC is the management company of Metinvest Group.