27 December 2013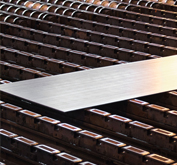 Since the turn of 2013, PJSC "AZOVSTAL IRON & STEEL WORKS" has mastered the production process for over 40 new types of rolled plates having unique properties in some cases.
The enterprise expanded the production range due to use of the up-to-date steel grades, change in the plate dimensions, stepping up the requirements to mechanical properties of the rolled products, use of thermomechanical rolling and other innovations.
Production of rolled plates for welded large diameter pipes including L415MB/L450MB pipe plates 20 mm and 25 mm wide for France has been implemented.
New Х60MSO PSL2 pipe plates 20,6 mm and 22,2 mm in width for oil & gas pipelines were produced for India. Big batches of new Х70M PSL1 rolled products 30-40 mm in width and BM (L245M) PSL2 rolled products 9,5-17,5 mm in width were shipped to Turkey and Saudi Arabia.
The range of products for shipbuilding and those of structural type has been broadened. Therefore, production of S460М rolled plates up to 50 mm in thickness for bridge construction in Poland was established this year.
The new products include a unique type of wide rolled products, which will provide additional competitive strengths for the enterprise and will give an opportunity to receive orders of increased complexity.
Today Azovstal can produce rolled products up to 3300 mm in width, 10-16 mm in thickness (before, the width of the rolled products was up to 3200 mm). None of the Ukrainian metallurgical enterprises has the production facilities to manufacture the products of such dimensions.
"Nowadays we literally fight for every order. It is necessary to exert every effort to hold the positions. Hence, Azovstal is in search of new customers, new outlets. Our efficiency, quality and the unique characteristics of Azovstal's steel – is a basis for stable development. Within the context, the main goal is to assimilate new products", – emphasized Director General of PJSC "AZOVSTAL IRON & STEEL WORKS" Enver Tskitishvili.
For editors:

PJSC "AZOVSTAL IRON & STEEL WORKS" is a modern high-technology enterprise manufacturing wide range of steel products: slabs, bars, shapes, railway rails, rail fasteners, square billets, plates and products of metallurgical slag.

Production capacities of the enterprise allow to produce annually over 5.5 mln. t of iron, over 6.2 mln. t of steel (aim is to achieve 7 mln.t of steel per year) and over 4.4 mln. t of rolled products. Design capacities for rail fasteners production is 285 thous. t per year, grinding balls 170 thous. t per year.

Metinvest is a vertically integrated mining and metallurgical group of companies that manages assets in each segment of production chain, from extraction of iron ore raw materials and coal, as well as coke production up to manufacture of steel semi-finished and finished products, pipes and coils and also manufacture of other high-value-added products. The Group incorporates mining and metallurgical enterprises located in Ukraine, Europe and USA and has sales network covering all global key markets. The key shareholders of Metinvest are SCM Group (71.25%) and Smart Holding (23.75%) that jointly manage the Company.

"METINVEST HOLDING" LLC is the managing company of Metinvest Group.