31 January 2014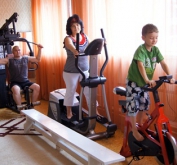 In 2014, "AZOVSTAL IRON & STEEL WORKS" (Metinvest Group) will allocate 16 million 347 thousand UAH for health improvement of employees, their families and veterans of the enterprise. In addition, the enterprise will invest 525 thousand UAH in the enhancement of rehabilitation facilities infrastructure.
Last year 3423 veterans and employees rested in the recreation houses "Nadezhda" (village Sopino), "Volna" (village Sedovo), sanatorium "Azovstal" and other resorts of Ukraine. The summer camp "Severny" was attended by almost 900 children of Azovstal employees.
Individual sanatory program is created for each vacationer at the enterprise sanatorium. Specialists carry out a wide range of preventional treatments for recovery of heart, blood vessels, respiratory, nervous and musculoskeletal system.
Natalia Kozachek, Dispatcher of Railway Station "Shlakoperedelnaya" says: "I have a rest at the enterprise sanatorium not for the first time. This is a real treat for body and soul! Many useful procedures: different types of massage, gym, salt spa therapy room visits... I also like that there is a good, and most importantly, healthy diet. After some time you come back to work with renewed energy and good humor".
Enver Tskitishvili, Director General of PJSC "AZOVSTAL IRON & STEEL WORKS" noted: "Health is the most valuable resource of a person. "AZOVSTAL IRON & STEEL WORKS" annually allocates millions for repair of Mariupol hospitals, purchase of new medical equipment. But our main target is to create comfortable and safe working conditions, providing opportunities for employees to refresh and improve their heath comprehensively during vacation".
For editors:

PJSC "AZOVSTAL IRON & STEEL WORKS" is an up-to-date high-technology enterprise which produces a wide range of steel products such as: slabs, sections and shapes, rails, rail fastenings, square billets, heavy plates, and smelter slag products.

Production capacity of the Enterprise makes it possible to manufacture annually over 5,5 million tons of pig iron, over 6,2 million tons of steel (the target is to achieve 7 million tons of steel per year), over 4,4 million tons of rolled products. Design capacity of rail fastenings manufacture is 285 thousand tons per year and that of steel milling balls manufacture is 170 thousand tons per year.

Metinvest is a vertically integrated mining group of companies, operating the assets in each sector of the production cycle beginning with iron ore and coal mining and coke production up to the manufacture of steel semi-products and finished products, pipes and coils as well as production of other products with high value added. The Group consists of mining and steel works situated in Ukraine, Europe, and the USA and has a chain of sales covering the key world markets. The chief stockholders of Metinvest are SKM Group (71,25%) and Smart-Holding (23,75%) which jointly run the Company.

METINVEST HOLDING LLC – the holding company of the Metinvest Group.