13 February 2014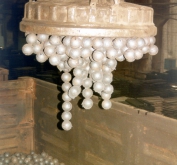 PJSC "AZOVSTAL IRON & STEEL WORKS" of Metinvest Group invests about UAH 12 million in capital repair of Ball Rolling Department, Rail Fasteners Shop. The enterprise intends to improve the efficiency of the subdivision and to provide steady operation of the equipment.
Currently, preparatory works for capital repair and delivery of necessary materials are carried out at full speed at Rail Fasteners Shop. Specialists of contractor organizations have started the lining of heater sections, assembly of elevator belts and manufacture of parts for heat recovery boiler.
During the repair will be replaced about 70% of the mechanical and electrical equipment of two sectional furnaces. Most parts of heat recovery boiler – three chambers, steam superheater and pipeworks, as well as recirculating water pipelines – are to be replaced.
Ball Rolling Department produces high-wear-resistant grinding balls used for ball milling of ore, coal and other materials in ore mining, cement, power industry as well as in building and construction. According to estimations made by AZOVSTAL specialists, the output of Ball Rolling Department after repair is to increase by 20 per cent – from 4,5 to 5,5 tons per hour.
"The products of Ball Rolling Department are much in demand at mining and processing plants of Metinvest Group today. Hence we must meet the highest quality standards and provide the production of grinding balls for our key customers in sufficient amount", – said Director General of PJSC "AZOVSTAL IRON & STEEL WORKS" Enver Tskitishvili.
For editors:

PJSC "AZOVSTAL IRON & STEEL WORKS" is an up-to-date high-technology enterprise which produces a wide range of steel products such as: slabs, sections and shapes, rails, rail fastenings, square billets, heavy plates, and smelter slag products.

Production capacity of the Enterprise makes it possible to manufacture annually over 5,5 million tons of pig iron, over 6,2 million tons of steel (the target is to achieve 7 million tons of steel per year), over 4,4 million tons of rolled products. Design capacity of rail fastenings manufacture is 285 thousand tons per year and that of steel milling balls manufacture is 170 thousand tons per year.

Metinvest is a vertically integrated mining group of companies, operating the assets in each sector of the production cycle beginning with iron ore and coal mining and coke production up to the manufacture of steel semi-products and finished products, pipes and coils as well as production of other products with high value added. The Group consists of mining and steel works situated in Ukraine, Europe, and the USA and has a chain of sales covering the key world markets. The chief stockholders of Metinvest are SKM Group (71,25%) and Smart-Holding (23,75%) which jointly run the Company.

METINVEST HOLDING LLC – the holding company of the Metinvest Group.