19 February 2014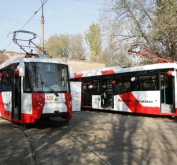 Metinvest Group invested around UAH 23 million to improve social infrastructure in Mariupol in 2013.
As a part of the program for social partnership with the city, the company increased the financial support to public health services. Thus, last year Ilyich Iron and Steel Works of Mariupol performed capital repair of surgical block of City Hospital No.1, and supported opening of a new outpatient clinic in Metallurgov Avenue which made medical care easier of access for 15 thousand citizens of Mariupol. At the expense of AZOVSTAL IRON & STEEL WORKS, therapeutic block of City Hospital No.4 and the only endocrine department in Mariupol were completely renovated. The therapeutic and surgical buildings of the two medical institutions were given a new life: up-to-date technologies were used to carry out interior and exterior surface plastering and painting, the heating, water supply, sewage and other utility systems were replaced. For the hospital rooms to be warm and comfortable even in cold weather, new metal-plastic windows were installed.
Through the support of Ilyich Iron and Steel Works, the construction of water-pumping station "Zapadnyi-1" was finished, providing continuous water supply to 27 blocks of flats, 2 schools and 2 hospitals located in the streets 60-letiya SSSR, Uritskogo, Solnechnaya and Shevchenko Blvd.
Leporsky Park, once neglected, came to life again. At the expense of AZOVSTAL IRON & STEEL WORKS, the walkways were repaired, rubber coating was laid round the fitness machines, sports grounds for athletics and gymnastics were built, and a skate park was created for outdoor activities of youth. Area planning, lighting and planting were provided at the cost of municipal budget. Whole families come to the Park to spend their time outdoors with fun and profit to health.
AZOVSTAL IRON & STEEL WORKS made the long-held dream of organizations for people with disabilities of Mariupol come true. A unique special-purpose bathing beach was built for people with disabilities, which is equipped with wheelchair ramps, handrails to facilitate coming into water, comfortable change cabins, shower cabins, water closets and shade sheds. Over 5 thousand of people with disabilities from 27 cities of Ukraine improved their health there during two summer months.
"Being a city-forming enterprise, Ilyich Iron and Steel Works has been for many years providing substantial assistance to Mariupol in solving the urgent problems of the city. We realize the importance of creating decent living conditions in our city. That's why we are going to continue our close cooperation with the city authorities in 2014, and we shall do our best to improve the quality of life in Mariupol", – said Director General of PJSC "Ilyich Iron and Steel Works of Mariupol" Yuriy Zinchenko.
"The social orientation of Metinvest can be seen by particular examples. AZOVSTAL and its employees have always been reliable partners of the city, and we envisage further development of our fruitful cooperation to the benefit of Mariupol and its citizens. We have fulfilled our partnership social obligations to the city for 100 per cent, and even more in some cases. I am sure that our partnership projects will be successful this year, too", – pointed out Director General of PJSC "AZOVSTAL IRON & STEEL WORKS" Enver Tskitishvili.
For editors:

PJSC "AZOVSTAL IRON & STEEL WORKS" is an up-to-date high-technology enterprise which produces a wide range of steel products such as: slabs, sections and shapes, rails, rail fastenings, square billets, heavy plates, and smelter slag products.

Production capacity of the Enterprise makes it possible to manufacture annually over 5,5 million tons of pig iron, over 6,2 million tons of steel (the target is to achieve 7 million tons of steel per year), over 4,4 million tons of rolled products. Design capacity of rail fastenings manufacture is 285 thousand tons per year and that of steel milling balls manufacture is 170 thousand tons per year.

PJSC "Ilyich Iron and Steel Works of Mariupol" is one of the largest integrated steelmaking enterprises of Ukraine. The enterprise produces flat rolled products and pipes made of carbon, low-alloy and alloy steel for various purposes: hot rolled plates and heavy plates for line pipe manufacturing, shipbuilding, pressure vessels, bridge constructions and other high-duty constructions; hot rolled plates and sheets, incl. pickled rolled products; cold rolled incl. galvanized band, sheet and strip steel, incl. intended for cold forming, manufacture of profiled sheeting, etc.

Metinvest is a vertically integrated mining group of companies, operating the assets in each sector of the production cycle beginning with iron ore and coal mining and coke production up to the manufacture of steel semi-products and finished products, pipes and coils as well as production of other products with high value added. The Group consists of mining and steel works situated in Ukraine, Europe, and the USA and has a chain of sales covering the key world markets. The chief stockholders of Metinvest are SKM Group (71,25%) and Smart-Holding (23,75%) which jointly run the Company.

METINVEST HOLDING LLC – the holding company of Metinvest Group.