25 March 2014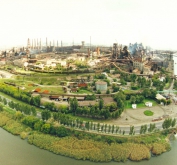 It has been five years since Metinvest Group and the cities where it operates started partnerships based on agreements and commitments to the community. Charitable support for municipal projects and programs totalled UAH 326 million, of which UAH 103 million went to Mariupol.
The main areas of support provided by Metinvest Group's Mariupol metallurgical enterprises included maintenance and repairs to social facilities, help to schools, road repairs, purchases of municipal transport, repairs and purchases of equipment for medical institutions, and landscaping of streets, parks, yards, and more.
"Partnerships with cities should provide tangible benefits to people living in Mariupol, where Metinvest Group's enterprises are actively developing and Ilyich Iron & Steel Works of Mariupol and Azovstal employ workforces of many thousands of people," said Yuriy Ryzhenkov, CEO of Metinvest Group, at a community meeting in Mariupol. "We want every Mariupol resident to see the results of our support through improvements in the quality of life in the city."
The partnership between the company and the city will continue, with social investments growing each year.
Metinvest Group's CEO said that support for different municipal projects and programs will continue and taken to a new level in terms of quality. The partnership budget was UAH 23 million last year. Challenges notwithstanding, Metinvest confirmed it will not reduce the budget this year, but rather increase it by UAH 8 million.
"Our contribution to the development of cites takes the form of salaries paid to steelmakers and miners, taxes paid to city budgets, and charitable financing of municipal projects and programs. In the last five years, Metinvest's payroll totalled UAH 23.2 billion. Taxes paid during this period to the local budgets alone was more than UAH 6 billion, of which about UAH 2 billion was paid to the budget of Mariupol. The company contributed 37.6% of city budget income last year," said Ryzhenkov.
For editors:

PJSC "AZOVSTAL IRON & STEEL WORKS" is an up-to-date high-technology enterprise which produces a wide range of steel products such as: slabs, sections and shapes, rails, rail fastenings, square billets, heavy plates, and smelter slag products.

Production capacity of the Enterprise makes it possible to manufacture annually over 5,5 million tons of pig iron, over 6,2 million tons of steel (the target is to achieve 7 million tons of steel per year), over 4,4 million tons of rolled products. Design capacity of rail fastenings manufacture is 285 thousand tons per year and that of steel milling balls manufacture is 170 thousand tons per year.

PJSC "Ilyich Iron and Steel Works of Mariupol" is one of the largest integrated steelmaking enterprises of Ukraine. The enterprise produces flat rolled products and pipes made of carbon, low-alloy and alloy steel for various purposes: hot rolled plates and heavy plates for line pipe manufacturing, shipbuilding, pressure vessels, bridge constructions and other high-duty constructions; hot rolled plates and sheets, incl. pickled rolled products; cold rolled incl. galvanized band, sheet and strip steel, incl. intended for cold forming, manufacture of profiled sheeting, etc.

Metinvest is a vertically integrated mining group of companies, operating the assets in each sector of the production cycle beginning with iron ore and coal mining and coke production up to the manufacture of steel semi-products and finished products, pipes and coils as well as production of other products with high value added. The Group consists of mining and steel works situated in Ukraine, Europe, and the USA and has a chain of sales covering the key world markets. The chief stockholders of Metinvest are SKM Group (71,25%) and Smart-Holding (23,75%) which jointly run the Company.

METINVEST HOLDING LLC – the holding company of Metinvest Group.