31 March 2014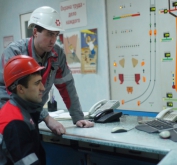 PJSC "AZOVSTAL IRON & STEEL WORKS" (Metinvest Group) continues to strengthen its cooperation with higher education institutions. Today 144 students from Priazovsky State Technical University do pre-graduation internship with BF Shop, Plate Mill, Rail and Structural Mill, Technological Administration and other enterprise subdivisions.
Over the years, PJSC "AZOVSTAL IRON & STEEL WORKS" has been an internship foundation for the students from Mariupol and Ukrainian technical universities. As recently as last year, 425 undergraduates did the internship, of which 364 were the students from Priazovsky State Technical University. At the enterprise the youth get acquainted with operating equipment under the supervision of experienced specialists, learn to work in real production conditions. Many specialists after graduation come to work at the enterprise.

To ensure quality training of future metallurgists since 2006 the enterprise in partnership with Priazovsky State Technical University have been implementing a unique educational project "School – University – Enterprise", in which PJSC "AZOVSTAL IRON & STEEL WORKS" has already invested more than 4 million UAH.

Alexander Reshetnyak, student with a specialization in Ferrous Metallurgy is learning to be apprentice blast-furnace operator in parallel to the thesis preparation. "I am interested to study ironmaking and, of course, I would like to put knowledge obtained at the university and during internship to use while working at the enterprise. I see that there are excellent conditions for professional start", Alexander noted.
"The average age of Azovstal employees is just 39 years old. It is very telling. We create jobs for the youth, give them opportunities for growth and worthy salary. The average salary at the enterprise at year-end 2013 amounted to 5242 UAH - 40% more than citywide level. Over the past year we employed 2258 people and created 448 new jobs. We devote much attention to the personnel training and closely cooperate with Priazovsky State Technical University in this regard. Together we have established an efficient system of target preparation for specialists who come to work for us after graduation. We will strengthen cooperation with higher education institutions", Enver Tskitishvili, General Director PJSC "AZOVSTAL IRON & STEEL WORKS", emphasized.

Support of educational programs and training of young professionals are among the top priorities of Metinvest Group enterprises. This was confirmed by Yuri Ryzhenkov, CEO of Metinvest Group, at the meeting with Mariupol public representatives.

"There is a great program "School – University – Enterprise" focused on preparation of students on those specialties and tendencies, which are of high priority for enterprises now. Probably there are all grounds and it would be appropriate to extend this program within Metinvest, to cover not only PJSC "ILYICH IRON AND STEEL WORKS OF MARIUPOL" and PJSC "AZOVSTAL IRON & STEEL WORKS", but other Holding companies", said Vahagn Mnatsakanyan, meeting participant, Ph. D student – environmental specialist from Priazovsky State Technical University.

"In fact, nowadays we do not experience deficit for all professions and specialties. This year ironmaking is a significant deficit. Today I have about sixty vacancies only for electricians at the enterprise. We are ready to take all. But the youth prefer economic, financial and general management specialties - such personnel are in excess at the labour market. Definitely, it is necessary to enhance the prestige of those professions, in which we have staff scarcity", Enver Tskitishvili, General Director PJSC "AZOVSTAL IRON & STEEL WORKS", commented on the situation.

CEO of Metinvest supported proposal of public representatives to expand cooperation with educational establishments in the field of specialists preparation for the company.

"We have large-scale tasks on the talent pool. We are ready to headhunt the best students from the very beginning and provide internship for them at our enterprises. We are willing to create mature pool for Metinvest already from the educational institution - talented, eager to learn and apply knowledge preeminently at the company enterprises. Seeing that there is a need, we certainly reconsider, and, if possible, expand the project. These programs - "School – University – Enterprise" and "Ilyich Prospect" - are unique and, most importantly they give positive results. I believe we will extend such training option not only for our two Mariupol enterprises, but also for our structural subdivisions in Yenakiyevo, Lugansk and Zaporozhye", outlined Yuri Ryzhenkov.
For editors:

PJSC "AZOVSTAL IRON & STEEL WORKS" is a modern high-technology enterprise manufacturing wide range of steel products: slabs, bars, shapes, railway rails, rail fasteners, square billets, plates and products of metallurgical slag.

Production capacities of the enterprise allow to produce annually over 5.5 million tons of iron, over 6.2 million tons of steel (aim is to achieve 7 million tons of steel per year) and over 4.4 million tons of rolled products. Design capacities for rail fasteners production is 285 thousand tons per year, grinding balls 170 thousand tons per year.

Metinvest is a vertically integrated mining and metallurgical group of companies that manages assets in each segment of production chain, from extraction of iron ore raw materials and coal, as well as coke production up to manufacture of steel semi-finished and finished products, pipes and coils and also manufacture of other high-value-added products. The Group incorporates mining and metallurgical enterprises located in Ukraine, Europe and USA and has sales network covering all global key markets. Metinvest Group incorporates Metallurgical and Mining Divisions. According to the strategic vision of Group it is aimed to become the leading European vertically integrated steel manufacturer with sustained growth and profitability, despite the cyclical nature of markets, and provide investment yield above the industry standards. For the first nine months ended 30 September 2013, the Group received a US $ 9.8 billion in revenue, EBITDA profitability was 18%.

The key shareholders of METINVEST B.V. (Holding Company of Metinvest Group) are SCM Group (71.25%) and Smart Holding (23.75%) that take part in the Group administration on a partnership basis.

"METINVEST HOLDING" LLC is the managing company of Metinvest Group.