8 April 2014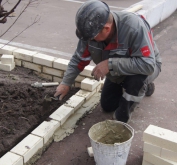 More than 2 thousand of PJSC "AZOVSTAL IRON & STEEL WORKS" employees participated in Metinvest Group corporate program Группы "Working environment with their own hands". Every subdivision has suggested its project on enterprise territory improvement and may receive grant in the amount of 10 thous. UAH for working conditions improvement.
Employees of PJSC "AZOVSTAL IRON & STEEL WORKS" have been performing improvements during March. Each staff had its designated territory. Workers, engineers, economist and managers have been working together: they have collected garbage and last year's leaves near their subdivisions, made several flowerbeds and planted 90 trees, removed dead standing trees and cut 418 plants. Also the participants of "Working environment with their own hands" installed 6 benches, whitewashed the sidewalks, painted the steel structures and put 44 industrial facilities in order: control rooms, operator's rooms, rest rooms, workshops, utility rooms.
Summing up the corporate program results is scheduled for the 18th of April. Competition commission will determine the best shops. To become a winner of the competition you need to gather the maximum number of points based on several criteria: territory improvement, improvement and repair of small architectural forms, small repairs and remediation of industrial facilities, drinking water points, as well as personnel involvement.
The most active subdivisions will receive certificates in the amount of 10 thousand UAH, which will assist in buying refrigerators, air conditioners, heaters, microwave ovens or other products to improve the working environment.
Yevgeniy Kirienko, crane operator at Plate Mill:
- We spend a lot of time at work, so I want to feel comfortable here, as comfortable as possible. Employees are interested in improving of working environment and it's great that it became possible to do it yourself.
Enver Tskitishvili, Director General of PJSC "AZOVSTAL IRON & STEEL WORKS":
- Employees of PJSC "AZOVSTAL IRON & STEEL WORKS" are very active and very persevering, they have a lot of ideas and energy. Even today, it is clear that the campaign "Working environment with their own hands" will be successful. We are constantly working to improve the working conditions of our metallurgists, and company-wide project will only accelerate this process, strengthen healthy competitive spirit and enthusiasm will add enthusiasm for the employees of PJSC "AZOVSTAL IRON & STEEL WORKS".
For editors:

PJSC "AZOVSTAL IRON & STEEL WORKS" is a modern high-technology enterprise manufacturing wide range of steel products: slabs, bars, shapes, railway rails, rail fasteners, square billets, plates and products of metallurgical slag.

Production capacities of the enterprise allow to produce annually over 5.5 million tons of iron, over 6.2 million tons of steel (aim is to achieve 7 million tons of steel per year) and over 4.4 million tons of rolled products. Design capacities for rail fasteners production is 285 thousand tons per year, grinding balls 170 thousand tons per year.

METINVEST is an international vertical-integrated mining-and-metallurgical Group of companies, which runs assets in every link of production chain for creation of value from iron-ore and coal mining tol semi-finished and finished metal products manufacture. The structure of the Group comprises mining and metallurgical enterprises in Ukraine, Europe and USA, and sales network covering the key world markets. METINVEST GROUP consists of Metallurgical and Mining Divisions. According to the strategical vision of the Group its aim is to become lead European vertical-integrated steel producer with stable ratio of growth and cost effectiveness in spite of market cyclicity, and to ensure investment return higher than industrial standards. In a period of the nine months before 30th of September 2013 the Group has received US$9,8 milliards of sale proceeds, cost effectiveness by EBITDA was 18%.

The main shareholders of METINVEST B.V. company (Holding company of METINVEST GROUP) are SСM GROUP (71,25%) and SMART GROUP (23,75%), which control Group at partnership relations.

METINVEST HOLDING LLC is the managing company of METINVEST GROUP.