16 April 2014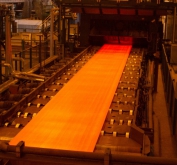 Azovstal Iron & Steel Works of Metinvest Group is working on the challenging order – the enterprise will produce 10 thousand tons of X70 rolled pipe plates with improved mechanical properties for Indian company.
The challenge was caused by out-of-size dimensions of the rolled products. According to the customer requirements, the plates thickness shall be only 10,7 mm, and width – 3289 mm. Earlier, Azovstal has never produced such large and thin rolled plates at the same time.
Rolling Mill personnel have figured out the special chemical content of steel and ensured products full compliance with high customer requirements to mechanical properties. To solve the issue of the rolled products dimensions, the specialists of the enterprise have adjusted the optimum set of rolls for the roughing and finishing stands of the Mill.
Director General of PJSC "AZOVSTAL IRON & STEEL WORKS" Enver Tskitishvili:
- Azovstal's employees are the professionals with capital P. People are our advantage in the competitive struggle at the steel market. It was already clear from the test rolling that Indian order production will in fact be a challenging task. However, due to the proper decisions, harmonious and exquisite workmanship, high qualification of the Plate Mill rollers and operators we have already produced 4500 tons of Х70 pipe plates and we will complete the order in April.
For editors:

PJSC "AZOVSTAL IRON & STEEL WORKS" is a modern high-technology enterprise manufacturing wide range of steel products: slabs, bars, shapes, railway rails, rail fasteners, square billets, plates and products of metallurgical slag.

Production capacities of the enterprise allow to produce annually over 5.5 million tons of iron, over 6.2 million tons of steel (aim is to achieve 7 million tons of steel per year) and over 4.4 million tons of rolled products. Design capacities for rail fasteners production is 285 thousand tons per year, grinding balls 170 thousand tons per year.

Metinvest is a vertically integrated mining and metallurgical group of companies that manages assets in each segment of production chain, from extraction of iron ore raw materials and coal, as well as coke production up to manufacture of steel semi-finished and finished products, pipes and coils and also manufacture of other high-value-added products. The Group incorporates mining and metallurgical enterprises located in Ukraine, Europe and USA and has sales network covering all global key markets. Metinvest Group incorporates Metallurgical and Mining Divisions. According to the strategic vision of Group it is aimed to become the leading European vertically integrated steel manufacturer with sustained growth and profitability, despite the cyclical nature of markets, and provide investment yield above the industry standards. For the first nine months ended 30 September 2013, the Group received a US $ 9.8 billion in revenue, EBITDA profitability was 18%.

The key shareholders of METINVEST B.V. (Holding Company of Metinvest Group) are SCM Group (71.25%) and SMART Group (23.75%) that take part in the Group administration on a partnership basis.

"METINVEST HOLDING" LLC is the managing company of Metinvest Group.